Kyle Schuneman is back with another brilliant #2BHack! First he showed us all how to create a new DIY fabric lamp shade. Now he's here to show us how to pull off a similar trick with your favorite chairs! Watch Kyle as he shows you just how easy it is to transform a basic wooden chair into a beautiful, unique, and personalized work of art!
The Tools For The Task

A chair with a smooth wooden surface (Kyle uses the Sierra Chair from Apt2B)
Mod Podge
Foam Brush (2″ wide is perfect, but any size will do!)
Scissors
Your favorite fabric! Check out Spoonflower for inspiration!
X-Acto Knife
The Prep Step: Disassemble The Chair & Assemble Your Supplies
This project is easiest when your chair is broken down into smaller pieces. Go ahead and disassemble your chair so that it's easier to work with! Not able to disassemble your chair? No problem! You can still follow along, but it might take a bit more fussing in the later stages of the process. Once you have your chair in its smallest components, you can assemble the rest of your supplies. You'll need your fabric, Mod Podge, an X-Acto knife, scissors, and a foam brush! A 2″ wide foam brush is ideal, but you can use any size that best suits your needs (or whatever you happen to have handy from old projects!).
Step 1: Cut Your Fabric To Size
Take your fabric, lie it flat, and then place the first part of your chair on top of the fabric. This will show you how much of the fabric you'll need for the first surface! Simply cut the fabric, leaving about 2″ of extra fabric on each edge. You'll only need to cut the general shape of the surface so no need for perfection at this stage. Go ahead and cut out each piece of fabric you'll be needing depending on how many individual surfaces you'll be covering!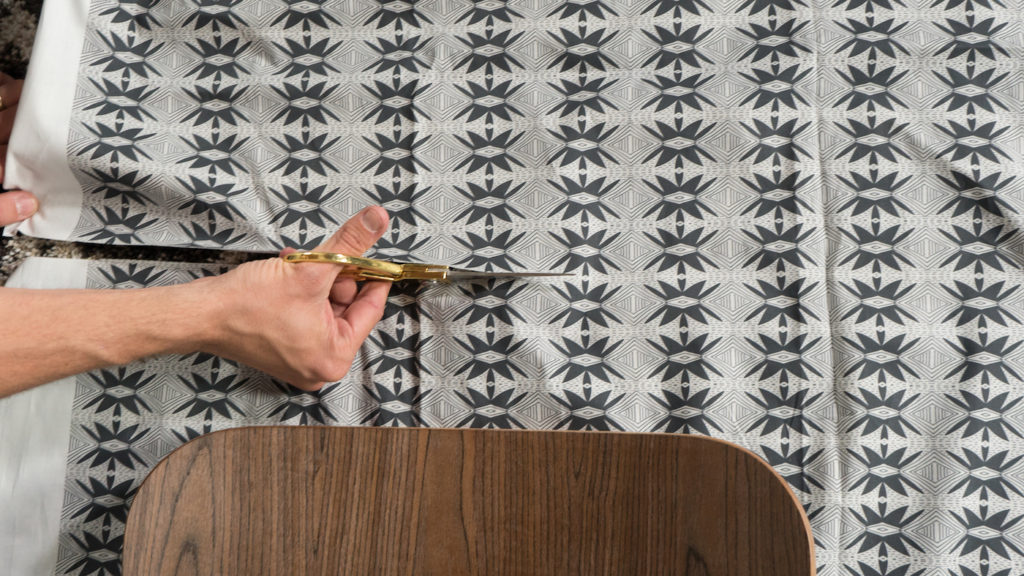 Step 2: Mod Podge and Mod Podge Some More!
Use your foam brush to apply a layer of Mod Podge to the first surface of your chair. While it's still wet you'll place your first sheet of fabric on the surface. Line up the fabric so that the pattern is facing the desired direction. Smooth out the fabric so that there are not any bubbles or wrinkles – this is essential for a flat look! When you have the fabric firmly positioned, it's time for your next layer of Mod Podge! Use the foam brush to apply this second layer of Mod Podge directly to the surface of the fabric. This will seal the fabric to the chair.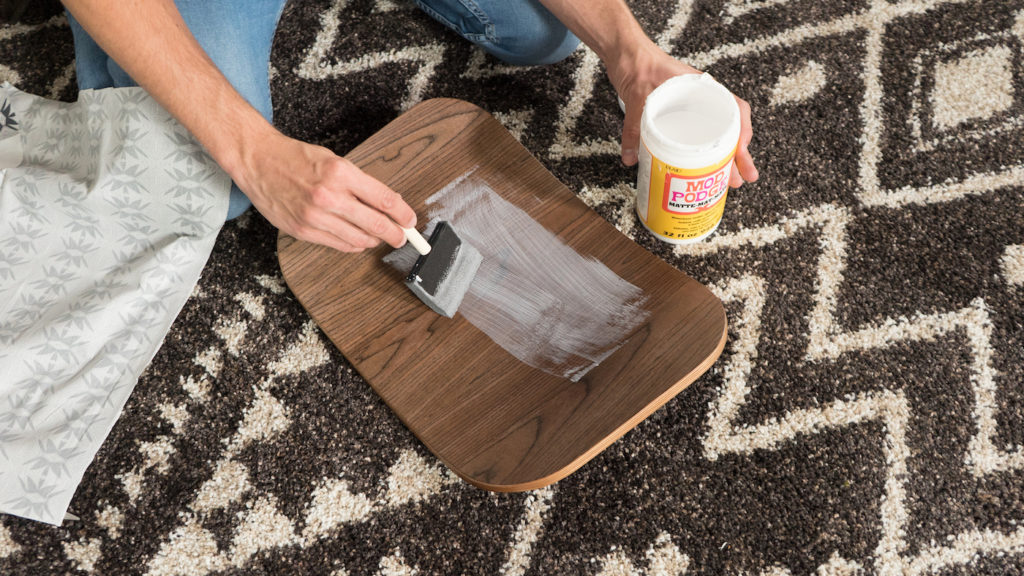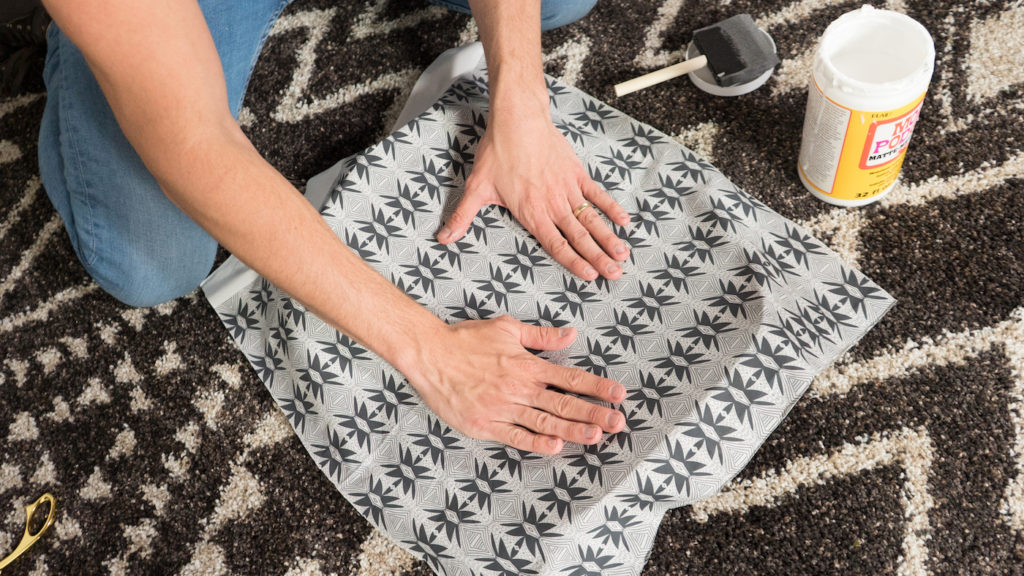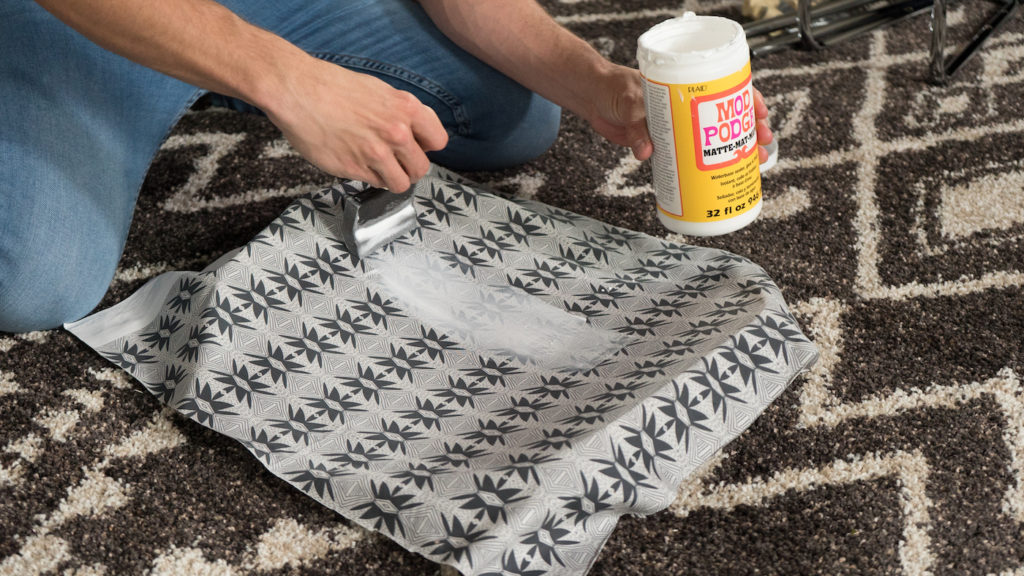 Step 3: Trim The Remaining Fabric
Give your fabric 30 minutes to dry after applying the Mod Podge. Once 30 minutes have elapsed you can use the X-Acto knife to carefully trim the excess fabric from the edge of the surface. Try to create as clean and sharp a line as possible!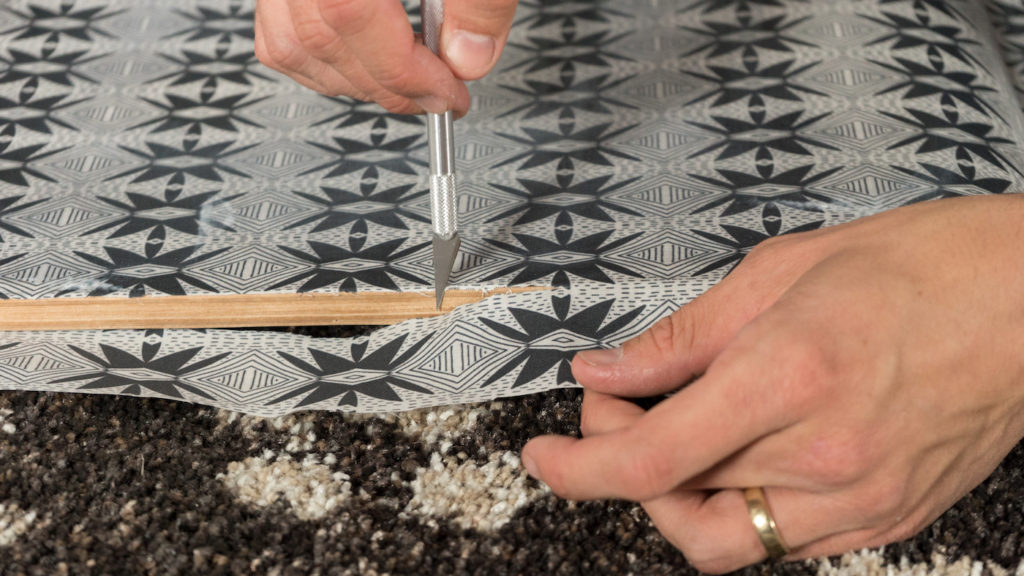 Step 4: More Mod Podge!
Thought you were finished with the Mod Podge? Guess again! It's time to apply one final layer of Mod Podge to your fabric. This will truly and finally seal all the fabric to the surface of the chair. Make sure to get the new, clean edges as best you can! You'll want full coverage for this final application.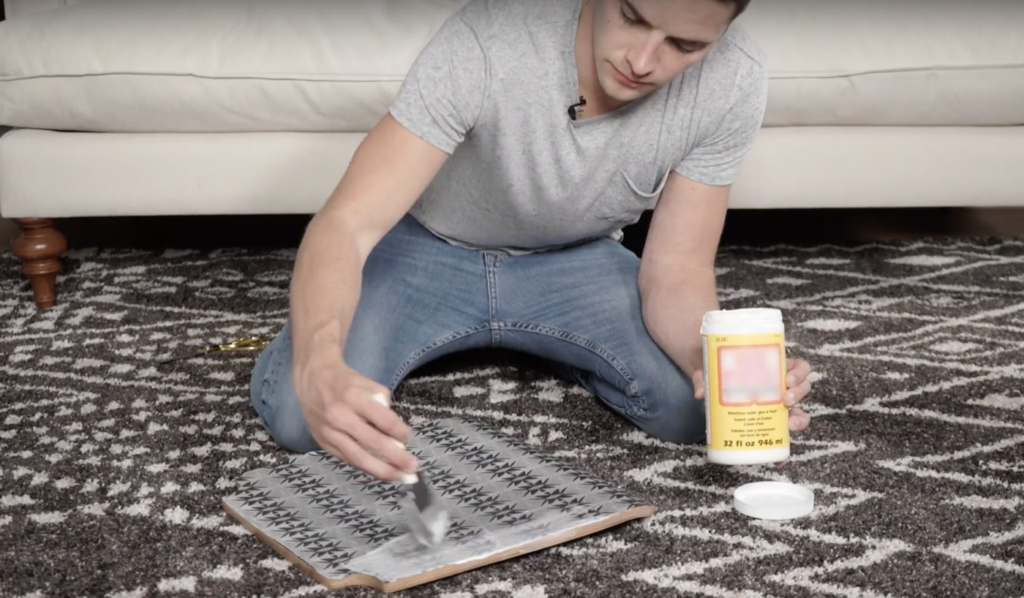 Step 5: Reassemble!
As soon as your Mod Podge is dry on each surface of the chair it's time to reassemble the pieces! Didn't need to disassemble in the first place? Then you're all set!




Want more #2BHacks? Then check out some of our other projects:
DIY: Learn How To Make A Custom Fabric Lampshade | #2BHack
DIY: This Folding Wall Art Table Is A Small Space Lifesaver | #2BHack
Products Featured In This Post




Saxon Sofa in Pure White | Solara Coffee Table | Crescent Area Rug CHOCOLATE/IVORY | Sierra Side Chair WALNUT
---