Guest Post by Houzz Editorial Staff Writer Erin Carlyle
Family rooms are for lounging, hanging out, conversation and, above all, comfort. These are the most popular family room photos added to Houzz from April through June this year, as measured by the number of people who've saved them to their ideabooks during that period. They show that comfort and style can go hand in hand quite beautifully. Take a look to get ideas for your own family room. Which ones would you like to try?
1. Warm gray paired with blue and rich wood for family rooms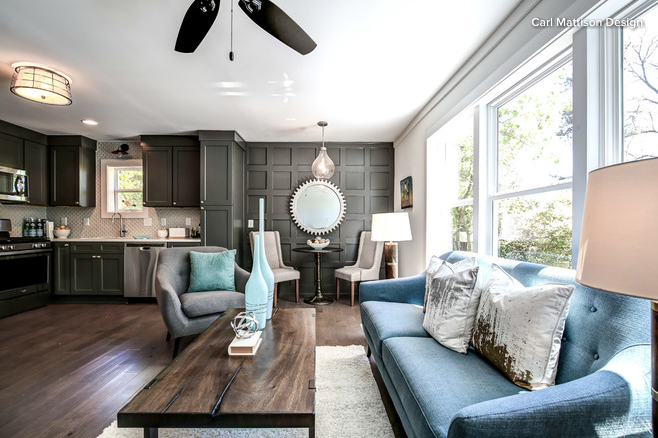 It's hard to argue with the appeal of a blue-and-gray color scheme, and this room, designed by Carl Mattison, demonstrates how winning the combination can be. Warm gray paneling and cabinetry provide a rich background for the blue sofa and dark wood coffee table, with an overall effect that's inviting and warm. Can't you imagine having a cup of tea and a cozy chat here? No wonder this was the most popular new family room image uploaded on Houzz from April through June.
2. Industrial accents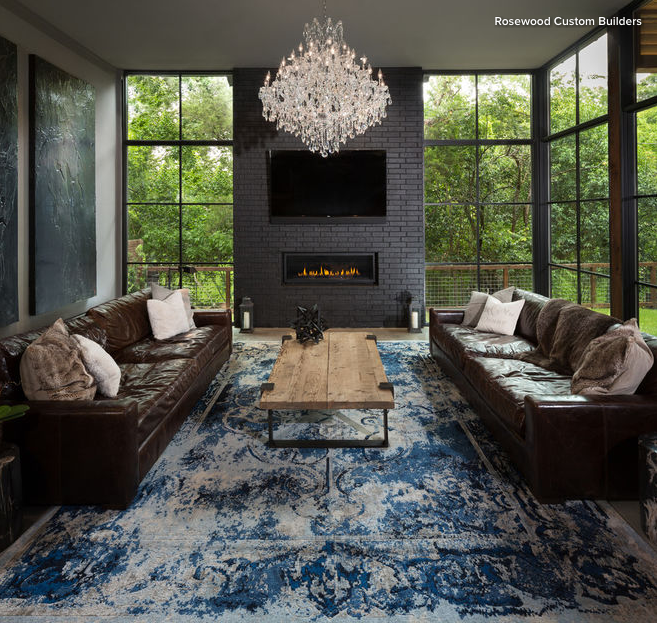 Two of the most popular family room photos uploaded on Houzz in the past few months feature industrial details, including ironwork, exposed pipes and rough-hewn wood. The owners of this home, Chris and Makenzi Dauwe, love the clean look of modern design but prefer the warmth of natural materials. The leather sofas, raw wood coffee table and faux fur pillows bring texture to the space, while the mullioned windows recall loft living and evoke industrial style. Note the palette here: blue and gray, in line with the design seen in the previous photo.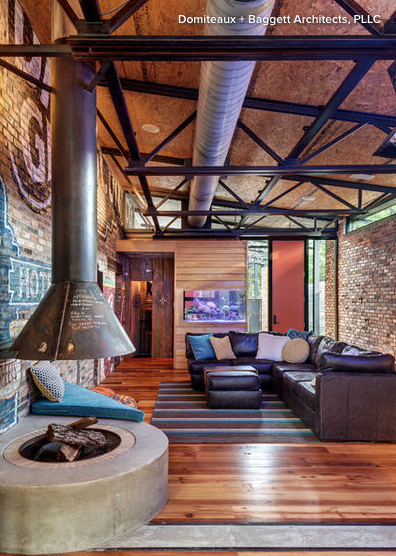 Here's another family room that features industrial touches. This family room in Dallas is a symphony of exposed materials, from the plywood ceiling to the exposed-brick walls to the metal chimney pipe and concrete indoor fire pit. And do you spy the accent on the back wall, framed in wood siding? That is indeed a built-in fish tank.
3. Flea market centerpiece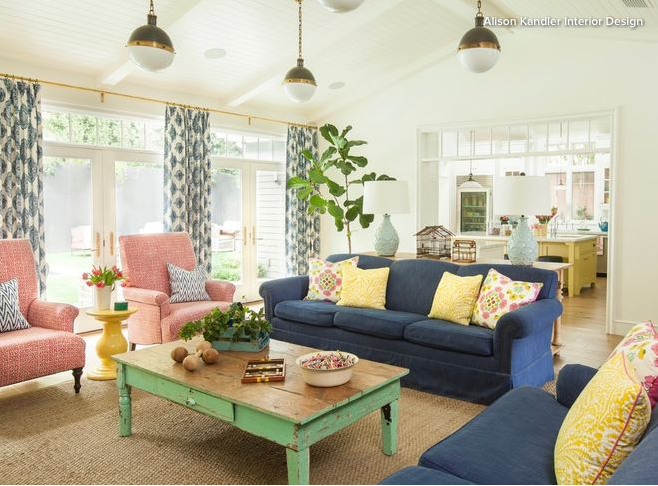 For this family room, interior designer Alison Kandler chose details that could withstand a beating. The sofas are covered in outdoor fabric and the rustic coffee table is a dining table that has been cut down to size. Kandler recommends finding one really great flea market piece to give a room a sense of history and soul.
4. Color everywhere but the walls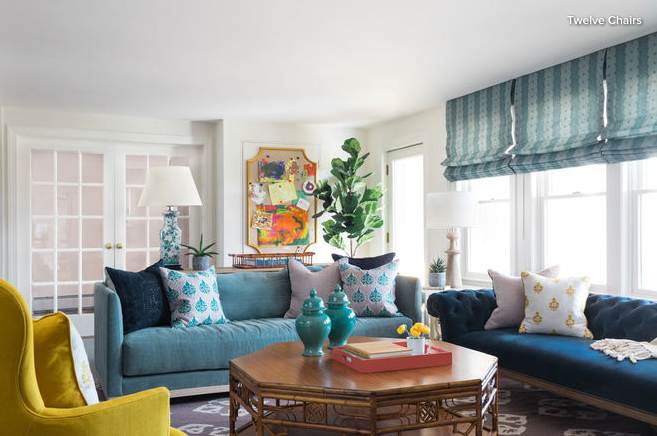 This vibrant family room gets its energy from the color in the soft pieces — the sofa and chair upholstery, the drapery, the rug — as well as from the tray, vases and patterned lamp. Dark walls may be trending, but another way to imbue your family room with color is to make bold choices in upholstery and leave the walls white or off-white.
5. Soothing neutral palettes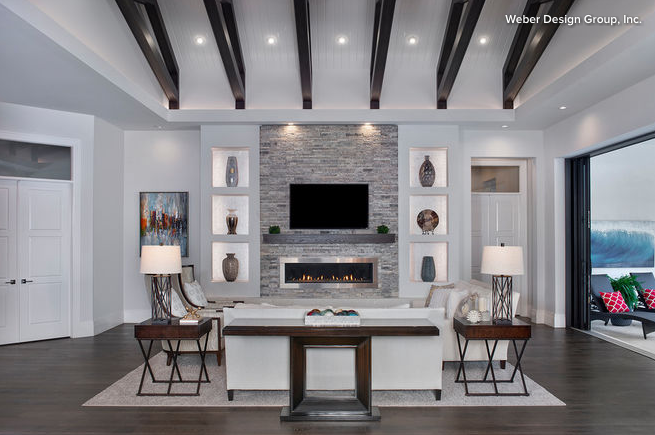 Three of the most popular new family room photos uploaded on Houzz during April through June include subtle, calming palettes. The first is this room, a peaceful blend of whites, woods and grays. Texture in the fireplace stonework and interesting shapes for the lamps and side tables add excitement to the room without departing from the neutral color scheme.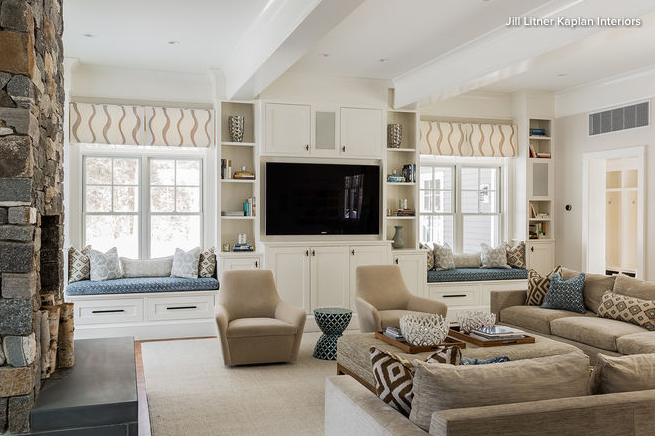 This room uses a different mix of neutrals — flax and white, with hits of denim blue — to create a calm effect. Varied pattern in the form of throw pillows, window treatments, the coffee table accent pieces and a garden stool dial up the room's energy by just the right amount.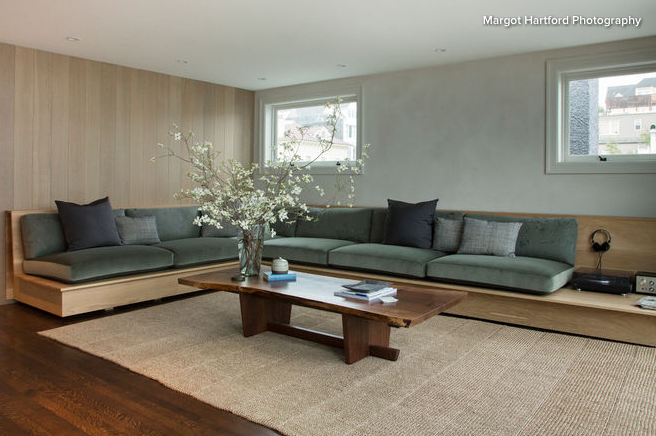 This room from the 2017 San Francisco Decorator Showcase sits on the top floor of the home and features dramatic views of San Francisco Bay, so designer Catherine Kwong created a restful space for drinking in the scene. The green-gray sofa fabric works to infuse a minimal amount of color in the beige and light gray room. Ahhh, restful.
6. Clean furniture paired with standout details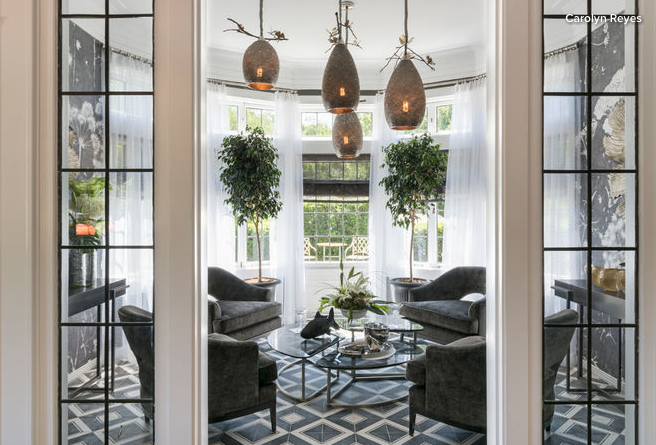 6. Clean furniture paired with standout details. This black-and-white conservatory from the 2017 Pasadena Showcase House is brimming with details that make it stand out, such as the oversize floral wallpaper, artistic hanging pendants and geometric tiled floor. The key to avoiding a room that feels too busy is keeping the main pieces understated. In this room, simple gray chairs and a clean glass-topped coffee table allow the other elements to shine. Symmetry also helps the room feel pulled-together. Note the dual topiaries and the graceful arrangement of four matching chairs.
Ready to hop on these trendy new family rooms? Then check out Apt2B's collection of living room furniture!
Other Houzz Articles To Check Out!
Contemporary Decor Ideas for a Trendy Living Room Look
Fireplace Tools to Keep It Cozy
Can't Find the Right Wallpaper? Make Your Own
Like this post? Then check out these other Apt2B Blog posts!
How To Make Your Home an AirBnB Mecca
A Bench Is The Decor Your Home's Been Missing
---