You've heard of Coachella, the hottest music festival in America. But now we're pleased to announce COUCHELLA, the hottest TV binge-watching festival coming at you live from your own living room.  You won't need a wristband for this festival – all you need is a sofa, a subscription to a TV streaming service, your jammies, and all the snacks you have in your house. Get ready for a transformative experience like no other. Couchella. Starts. Now.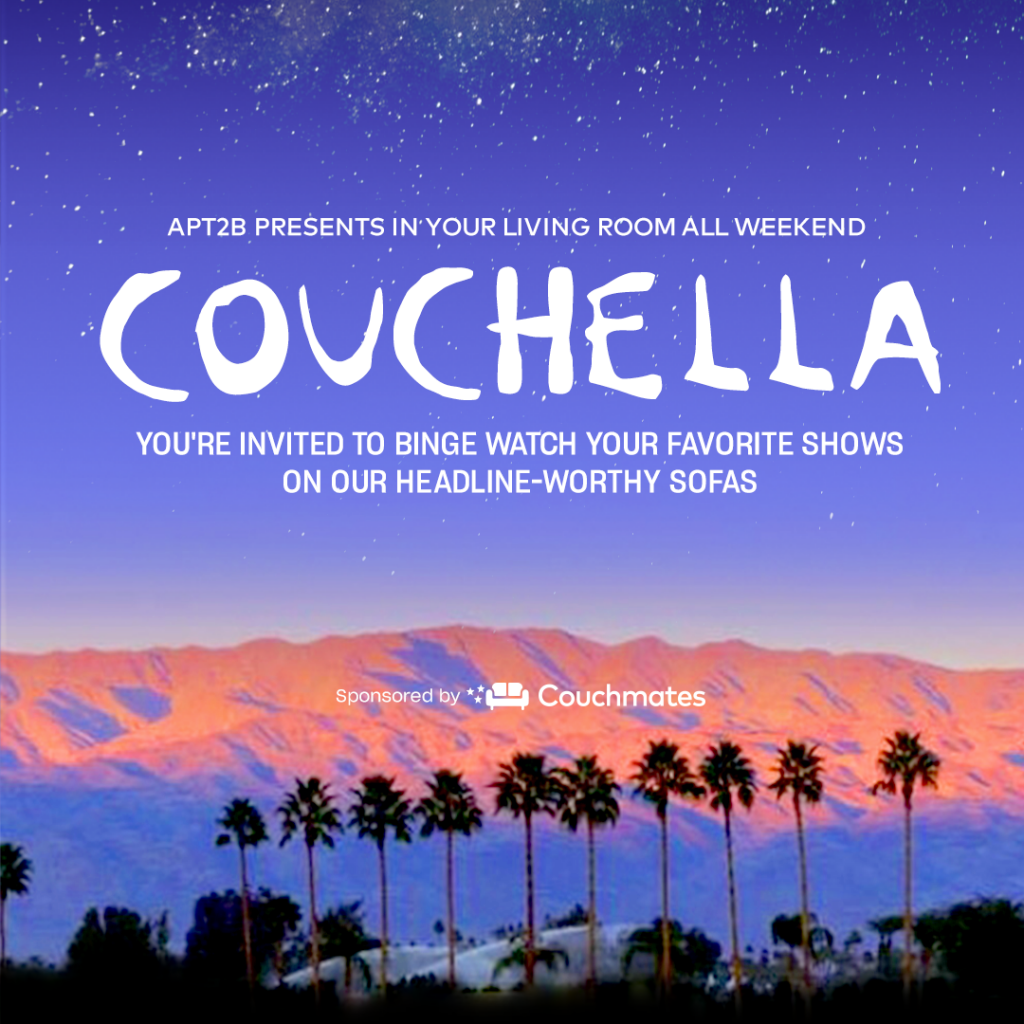 An Unforgettable Lineup
Each day of Couchella will feature an unforgettable headlining sofa supported by all of the best TV shows to binge watch while sitting on it. With a lineup this good you won't have to think about a single thing. And isn't that what weekends were designed for? You'll also get access to 18% OFF every Apt2B sofa during Couchella. So don't slum it in the desert for 3 days while EDM blasts your eardrums out. Spend it at home, on your sofa, enjoying what really matters – an ungodly amount of TV.
Friday – Delilah & The Velvets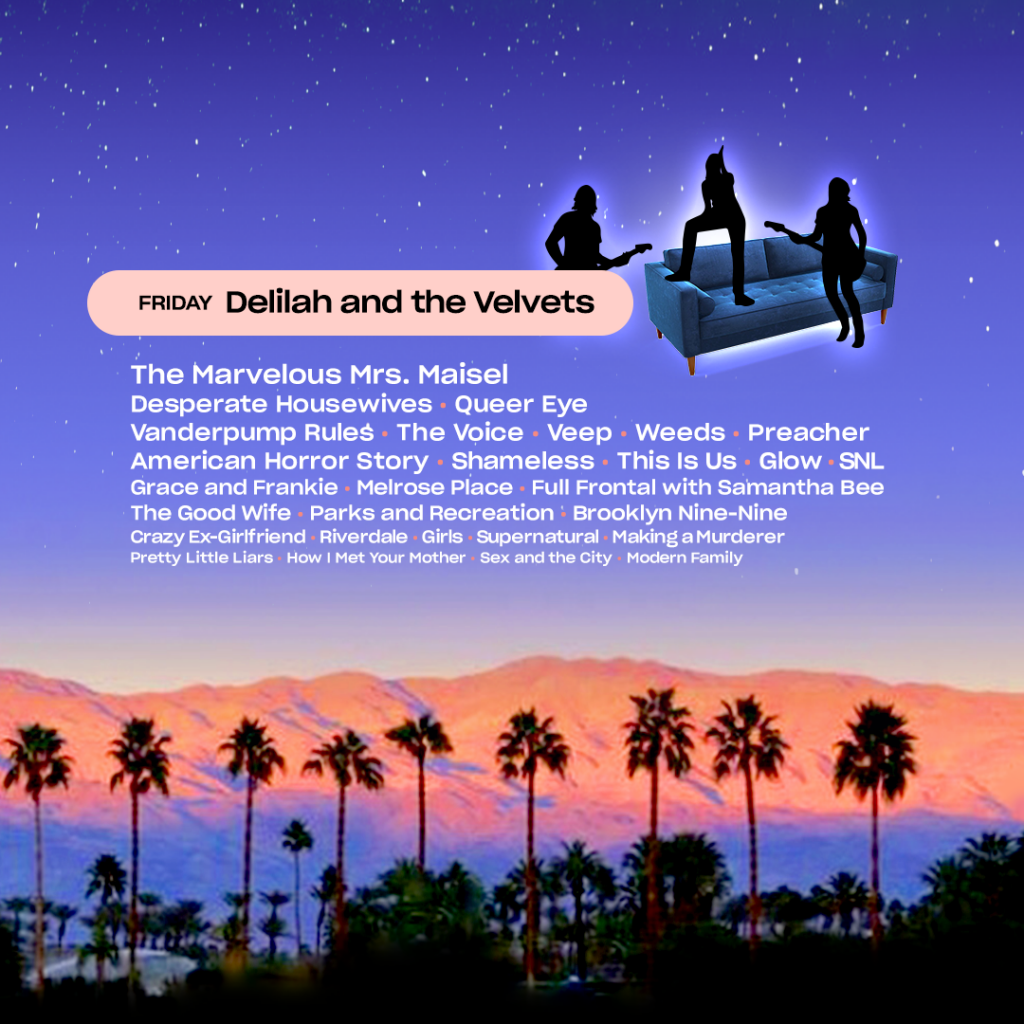 We've assembled the three best sofas to headline each day of Couchella. The festival kicks off with Delilah & The Velvets. This sofa has a huge range and is backed by a luscious collection of plush velvet fabrics. Sophisticated styling and clean lines define this dynamic davenport. Get ready for a day of binge-watching period pieces, high profile dramas, premium reality TV, and good-natured comedies.
Saturday – DJ BRËNTWøøD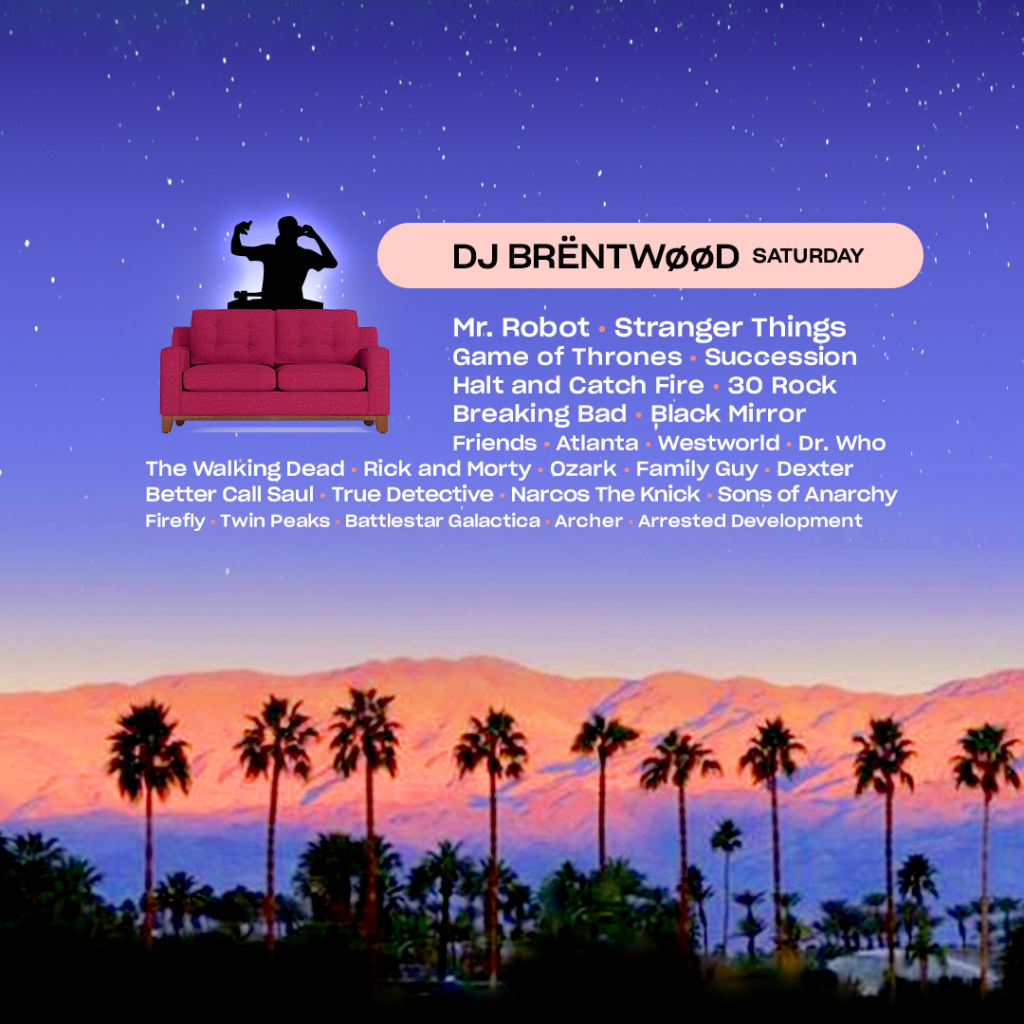 Hope you're hydrated, because DJ BRËNTWøøD is in the Sahara Tent all day Saturday. And by "Sahara Tent" we definitely mean your living room. This buttoned-up sofa draws a big crowd – and has room for all of them to sit. You won't want to miss it when DJ BRËNTWøøD lets the base drop. The solid wood base, that is. Binge your favorite Sci-Fi, Fantasy, and premium cable shows with DJ BRËNTWøøD.
Sunday – Harper The Queen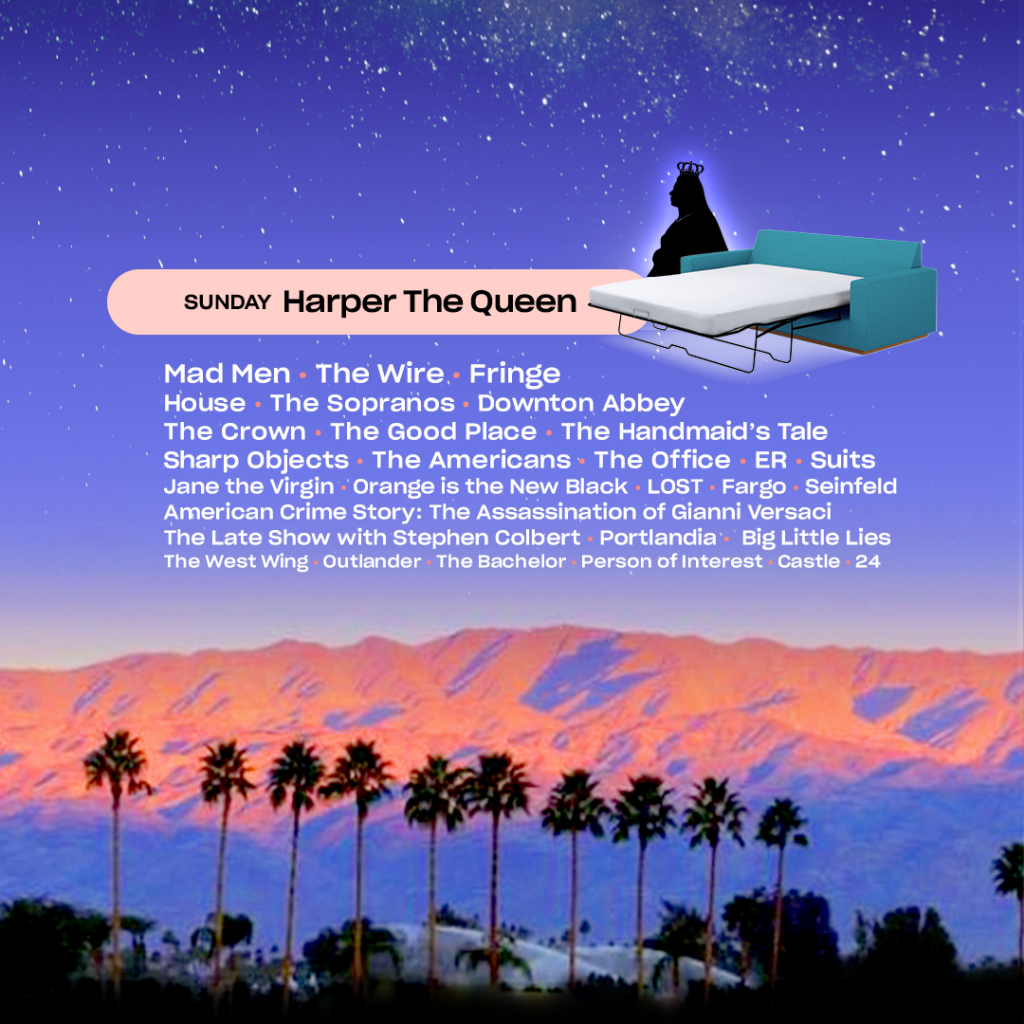 We saved the best for last. Sunday's headliner is one you won't want to miss. She's the diva of the divan. The queen of queen-sized sleepers. And the queen regent of regency style. She's Harper The Queen! Enjoy some of the best television shows ever made with the Harper: Mad Men, The Sopranos, The Wire, The Office, Seinfeld, and many more. After a weekend full of binging TV you're going to be ready for a good night's sleep. And the Harper has you covered with a built-in queen sized sleeper. Divine.
Binge-Watching Checklist
A sofa
Snacks
Pajamas
Batteries for your remote
Subscriptions to streaming services – Netflix, Amazon Prime, Hulu, HBO Go
More Snacks
A TV – the bigger the better
A High Speed Internet connection
A microwave for nachos
A smart phone with Instagram so you can tag yourself in all your Couchella pics. @apt2b #couchella
Couchella is sponsored by Couchmates
---