"There's something special about you," said music industry titan, Simon Cowell on national television to a fresh faced, young contestant. And boy was he right.
But Simon Cowell didn't even know the half of it. That's because Caly Bevier is more than special – she's extraordinary. She's as tough and courageous as they come. No challenge has been too great and no barrier too high. That's why it was an honor for us to help Caly design and furnish her brand new Los Angeles apartment. This 900 square foot space was a blank slate that Caly filled to the brim with her punk rock personality and style.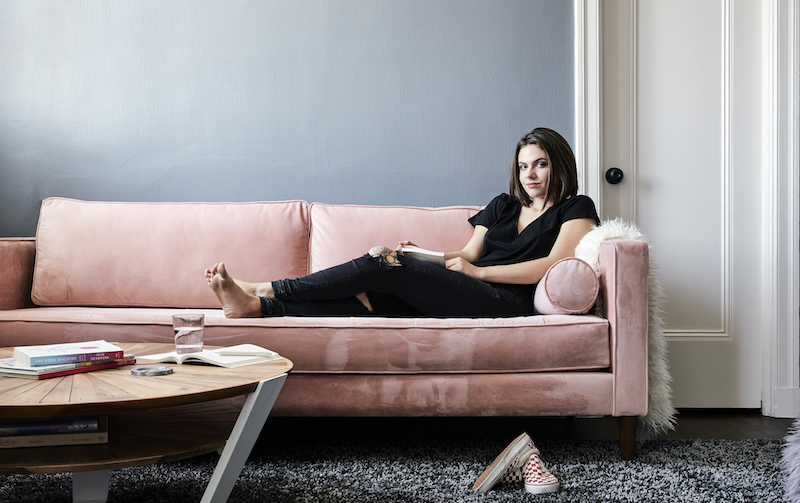 Delilah Sofa in Blush Velvet | Solara Coffee Table | Ophelia Shag Throw in Cream
A 900 Sq. Foot Apartment That Begs To Be Instagrammed
Living Room
"The couch is literally so comfortable! If I'm being honest, I've slept on the couch more than my mattress" – Caly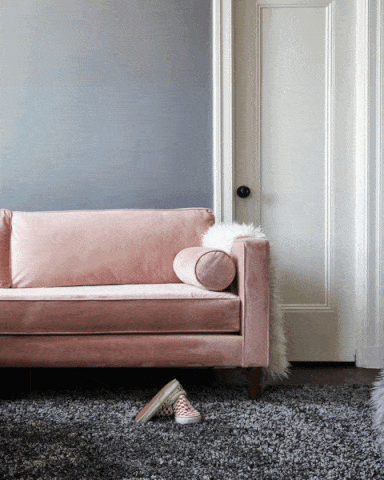 Caly's apartment needed to have as much character and energy as she brings to her own life and work. This meant finding pieces that are bold, make a statement, and can stand on their own. Caly's a fierce and tenacious individual – her furniture needed to reflect that. Not only that, but her furniture needed to be functional and influence her creative life. One of our stylish, artist-designed credenzas was a no-brainer. It's also the perfect size for a record player and a vinyl collection. Coupled with some of our favorite Giulio Rossi paintings this credenza sets the tone for the space. Opposite the credenza is our Chaplin Floor Lamp, which provides ample limelight. Caly also selected our Delilah Sofa in the Blush Velvet fabric. No shortage of personality here!


Credenza by 83 Oranges LEMON | Chaplin Floor Lamp |
Art: Guilio Rossi COOL & Guilio Rossi FLY AWAY
"The dining room set has saved me! I was always eating on the floor on my yoga mat! It gives me a super chic 70s vibe." – Caly
Dining Room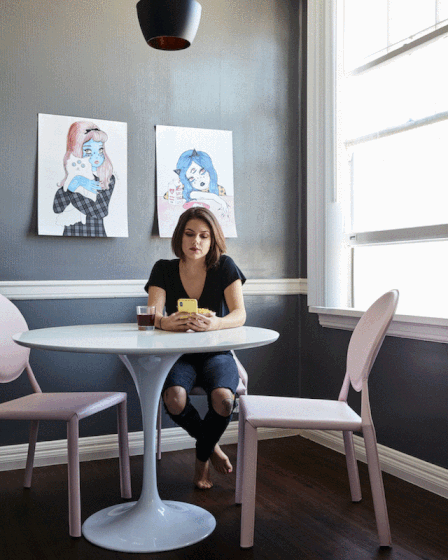 Caly's dining room benefits from the same gorgeous slate gray walls, white trim, and abundance of natural light found throughout her apartment. Here she uses these features to her advantage by carrying through the blush pink theme from the living room and the same playful artistic sensibility. The Valencia Side Chairs in Pink add a pop of fun color and personality. They also match the artwork and the Delilah Sofa in Blush Velvet. The glossy white La Jolla Dining Table ties in the crisp white trim and windowsills. Caly also makes great use of her space by allowing plenty of room on all sides of her table. A larger table would cramp the space and disrupt the comfortable energy Caly has created.


La Jolla 40″ Fiberglass Table | Valencia Ave Side Chairs in Pink
A Lifetime of Achievements – And She's Just Getting Started
Caly has not had what anyone would consider a normal, easy life. At age 15 Caly was diagnosed with stage 3 ovarian cancer. Cancer is a battle that no one should ever have to fight, but Caly rose to the challenge. She channeled her fierce, unstoppable creative energy into art. She sang a version of Rachel Platten's "Fight Song" at a fundraiser. The performance was recorded and Caly became a viral internet sensation overnight. Caly was on the map in a big way. Her stellar performance landed her a spot on "Ellen", where she not only wowed the audience, but ended up with another massively popular YouTube video. Her star was shining bright. And her biggest performance was yet to come. Caly took the stage on the hit TV series "America's Got Talent". The celebrity panel of judges included the notoriously critical Simon Cowell. Not only did Caly manage to impress Mr. Cowell – he used his only "golden buzzer" to fast track her to the finals. She was that good.
The Future
Caly is taking advantage of her new apartment and its creative energy to help inspire her new album! Her first official single, "Head Held High" was released on July 6th, 2018 and has already been used in the FOX series "So You Think You Can Dance" and some of the summer's hottest Spotify playlists. No matter what else the future holds it's clear that Caly will rise to the challenge and meet any obstacles head on.
Show Caly You Love Her As Much As We Do
Love Caly Bevier and her new apartment? Show her some love by following her on social media and checking out her new album! Caly's journey has only just begun – and believe us when we say that you won't want to miss a minute of it.
Facebook
Twitter @calybev
instagram @calybev
Listen to Caly's new single "Head Held High" now!
Love the amazing photos from Caly's photo shoot? Check out photographer Joe Schmelzer on instagram @treasurbite!
---