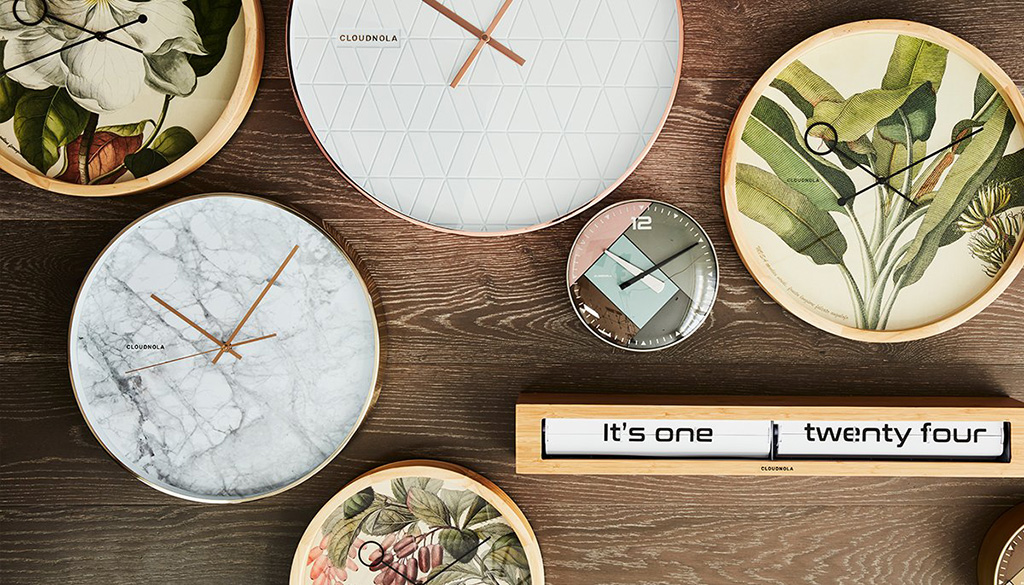 Once upon a time, people actually needed something called a "wall clock" to know what the time was. Standalone alarm clocks were most people's wake-up call (remember when the radio roused you from your sweet slumber?), and grandfather clocks were a landmark furnishing before the pendulum swung over to the modern age. Now, we walk around with the exact hour and minute in our pockets, no need to ever ask a kind stranger to check their wrists for you.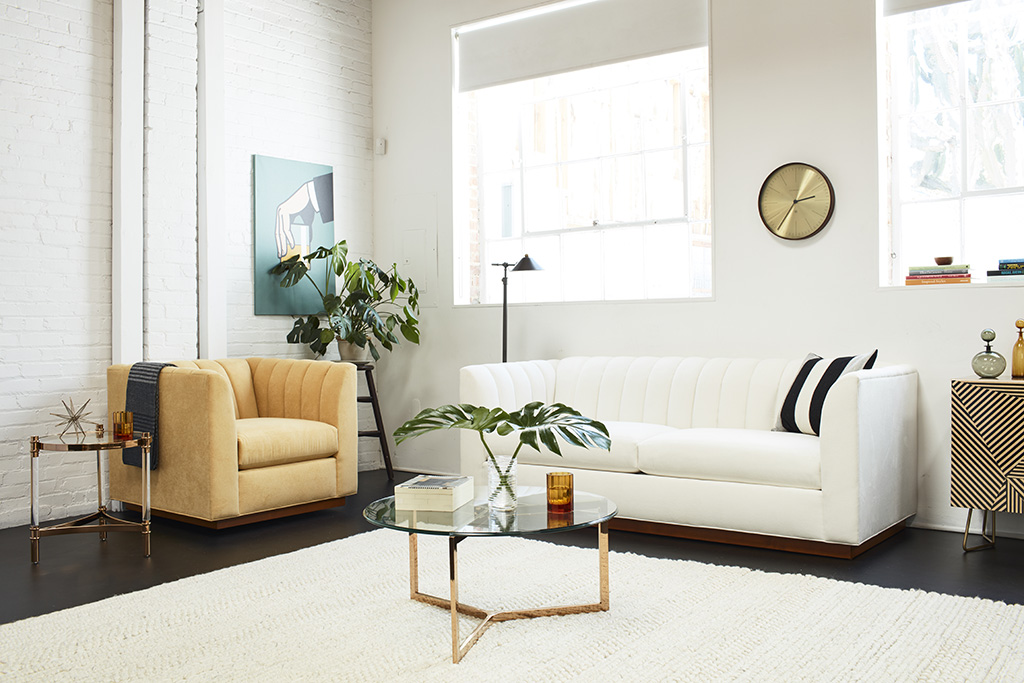 Shop the look: Nora Sofa in WHITE VELVET | Nora Swivel Chair in MARIGOLD VELVET | Trusty Clock by Cloudnola GOLD | Credenza by Three of the Possessed DAZZLE APARTMENT | Mines Area Rug IVORY
But wait, clocks, we're not done with you yet. You do so much more for our lives than remind us we're perpetually five minutes behind (even when we lie to ourselves and set you to run a little earlier)…you add some serious flair to our homes. Analog or digital, there's definitely something charming about the addition of a clock to the living or bedroom (pop one into your bathroom, too, because well, it's easy to lose track of time in there, amiright?).
Now that we've established the more-than-practical use of the oft-overlooked clock, let's take a look at nine of our best sellers sure to level up your room's style…and maybe give your eyes a break from all those screens.
Rosé All (Hours of the) Day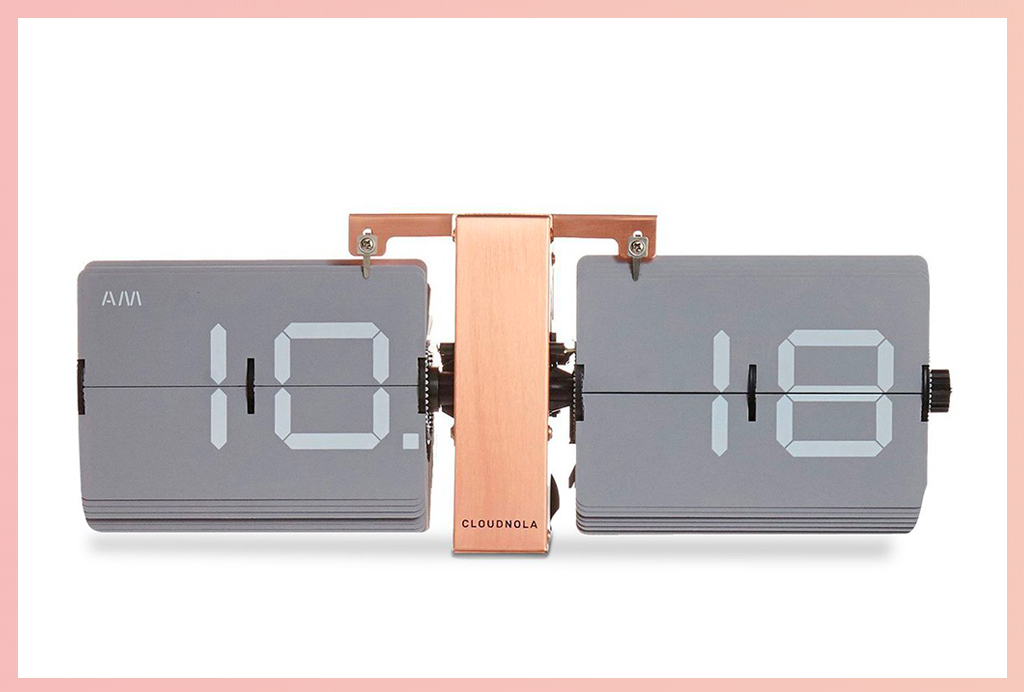 Shop now: Flipping Out Clock by Cloudnola GREY/COPPER
Our Flipping Out Clock is a best-seller and often flies off our (virtual) shelves fast. Super versatile, it can be mounted on the wall or take pride of place on a bookshelf, credenza or nightstand. Analog is the new digital, folks.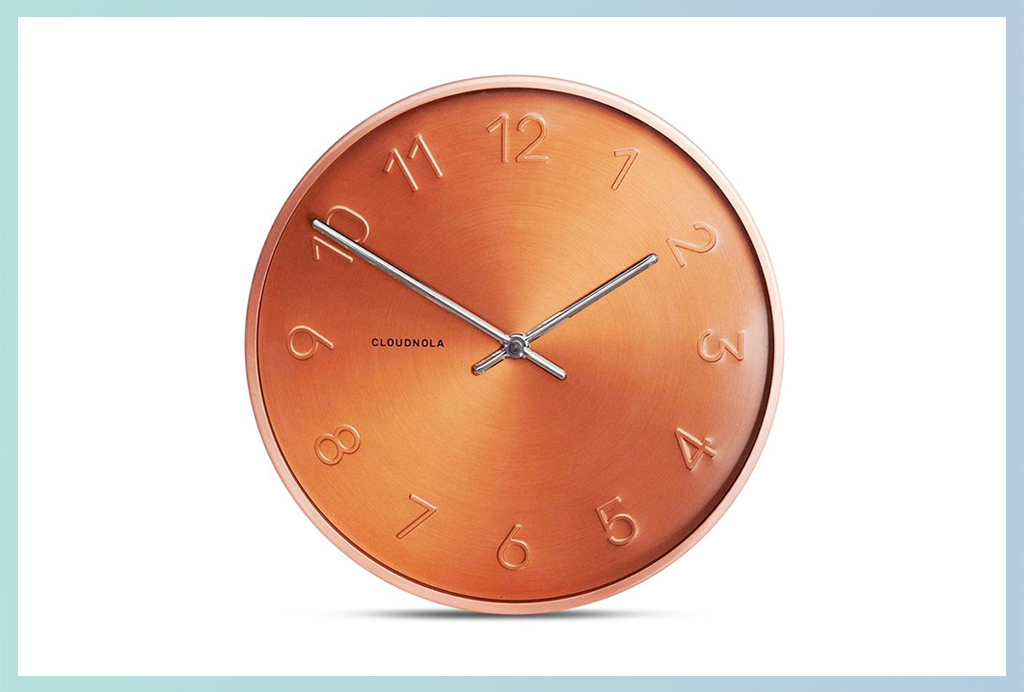 Shop now: Trusty Wall Clock by Cloudnola COPPER
Just like the gold clock in the living room photo from above, but in a jazzy copper. Rosey tones like this one add warmth to neutral spaces and can be paired with silver and brass tones, too!
Keep Quiet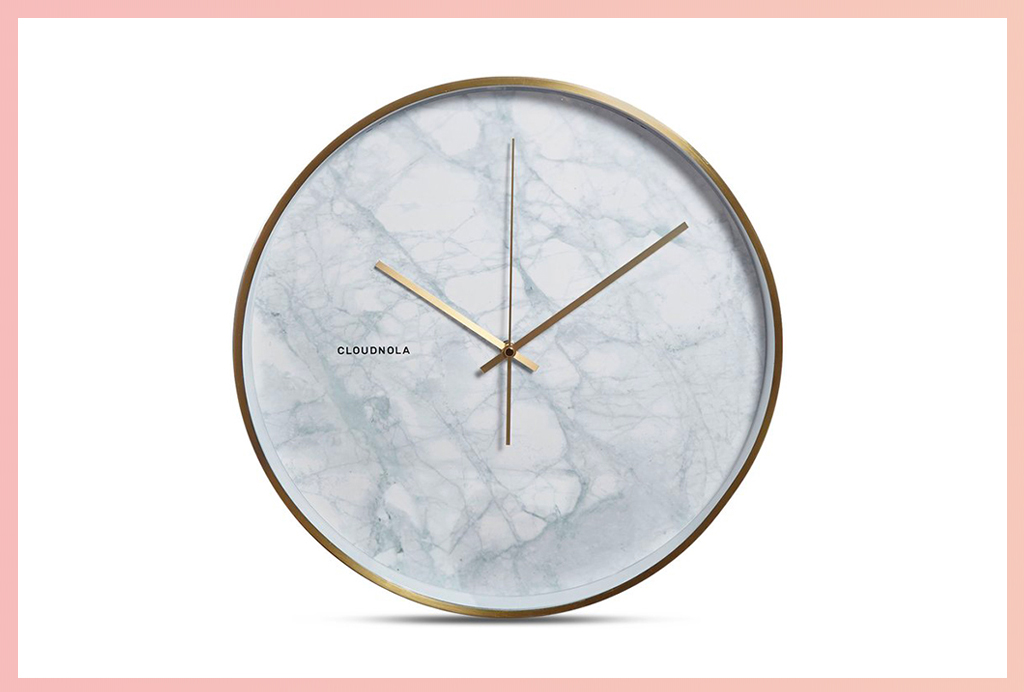 Shop now: Structure Wall Clock by Cloudnola MARBLE
Ah marble, the hard surface hero of trendy design, except it's a stone older than seemingly time itself. If you're looking to add a sprinkle of modern glam to your walls, check out our Structure Wall Clock.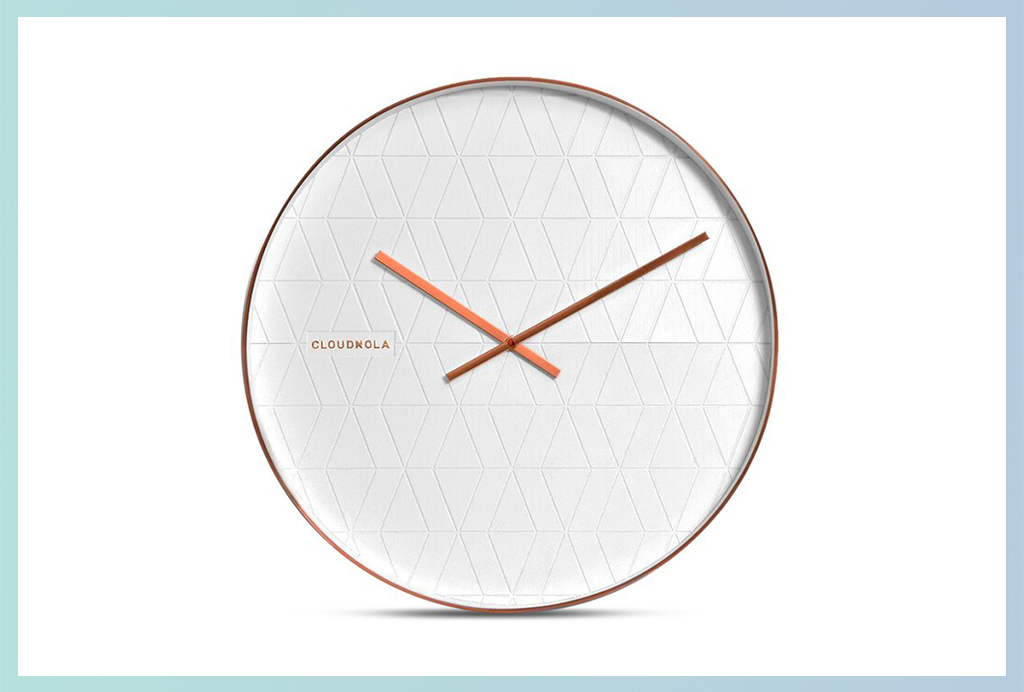 Shop now: Cloud Wall Clock by Cloudnola
The quiet graphic impact of our Cloud Wall Clock is like that friend or coworker you have that doesn't say much, but when they do, everyone stops and listens…in this case, they're telling you it's been over an hour since you ordered those tacos and your Postmates is late.
What's That They Say About Small Packages?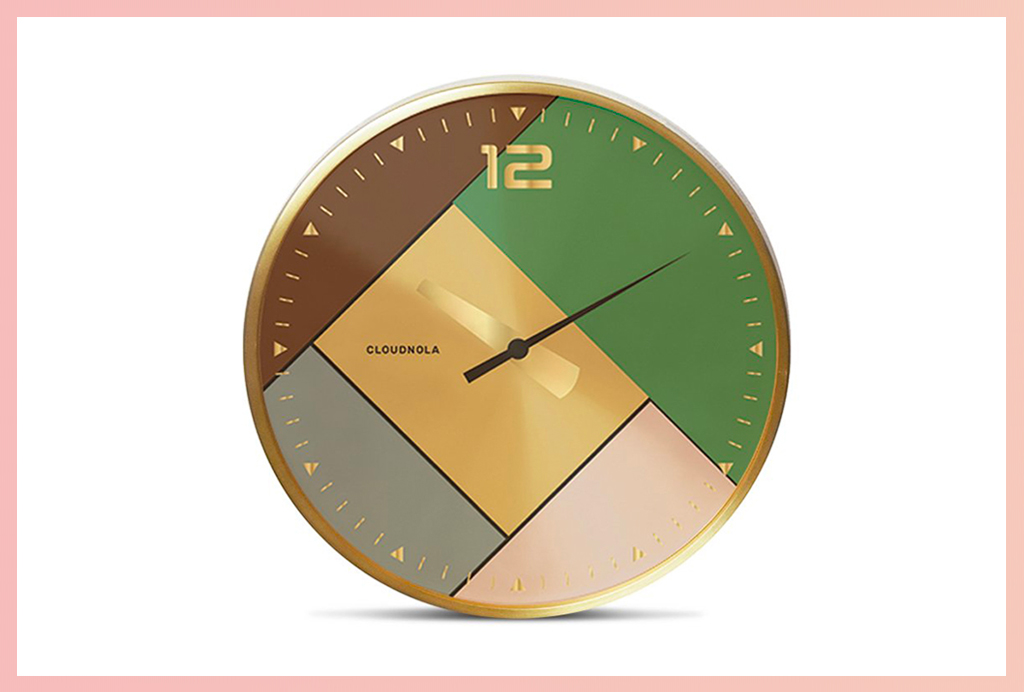 Shop now: Rubik Wall Clock by Cloudnola GOLD/BRUSHED GOLD
Small with substance! At just under 8 inches in diameter, the Rubik Wall Clock in GOLD/BRUSHED GOLD can squeeze into the tiniest of vignettes. This little gem comes in a few other colors, like…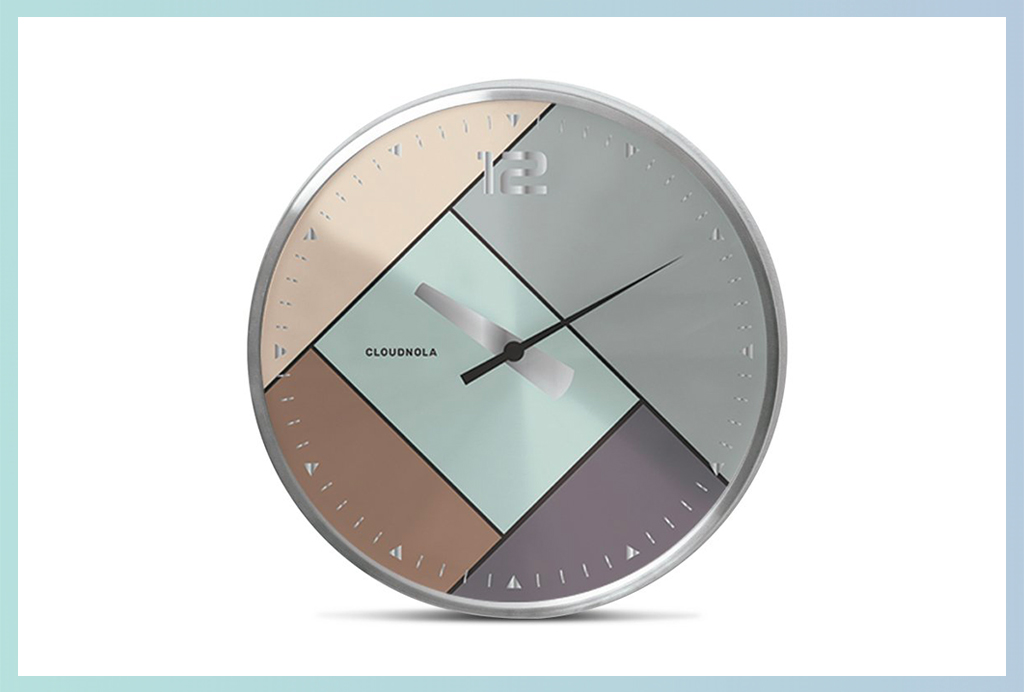 Shop now: Rubik Wall Clock by Cloudnola SILVER/BRUSHED SILVER
…this one! For anyone who was like "yes…but in blue" for the previous clock, we bring you the Rubik Wall Click in SILVER/BRUSHED SILVER.
Spring Forward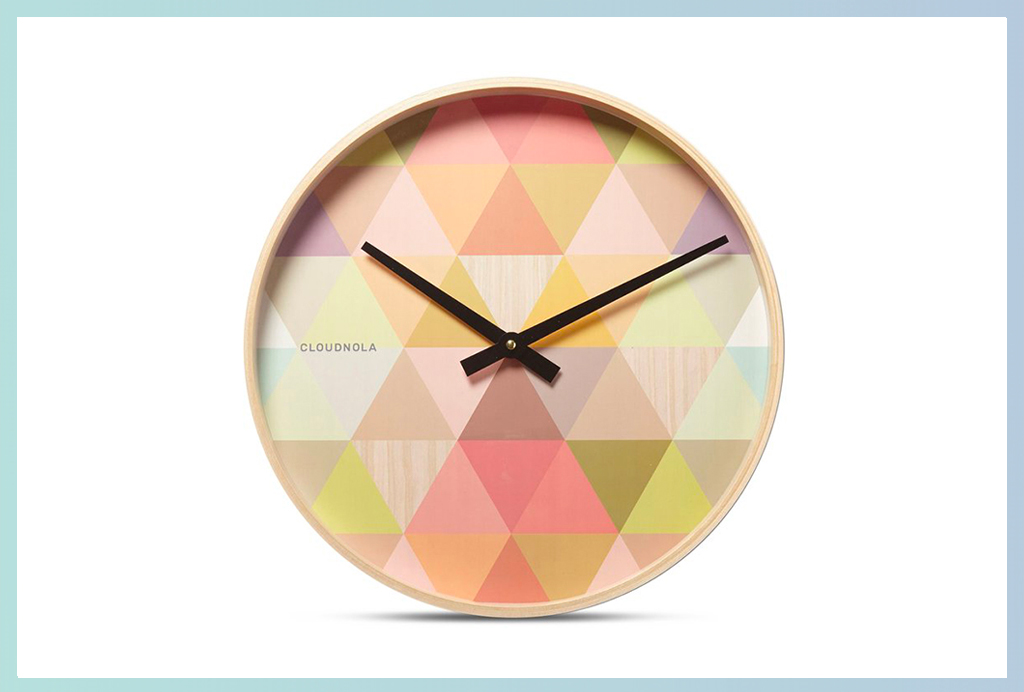 Shop now: Gin Wall Clock by Cloudnola
Tick tock…style waits for no one. Alright, clock puns aside, the Gin Wall Clock is just plain fun. The blonde wood frame plays nice with just about all over wood tones (pecan, walnut, pine). Meanwhile, the kaleidoscope of color would punch up any wall it graces.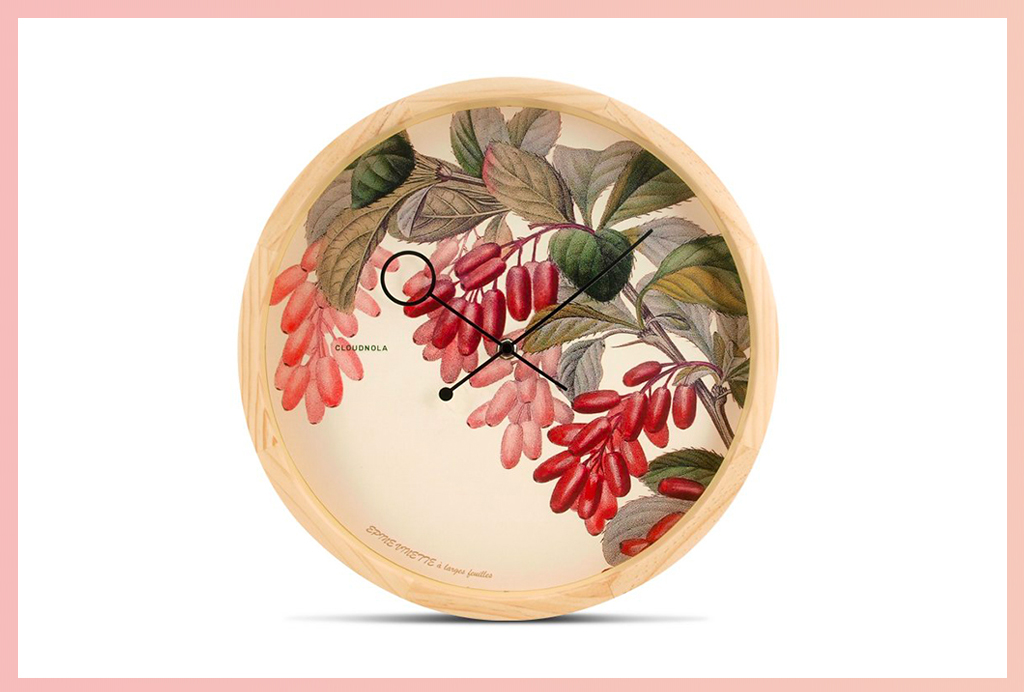 Shop now: Botanical Wall Clock by Cloudnola EPINE VINETTE
Every day is spring with our Botanical Wall Clock in EPINE VINETTE. We'd love to see this one perched atop or next to our Saxon Sofa or even our Nora Sofa…in Blush Velvet, ofc.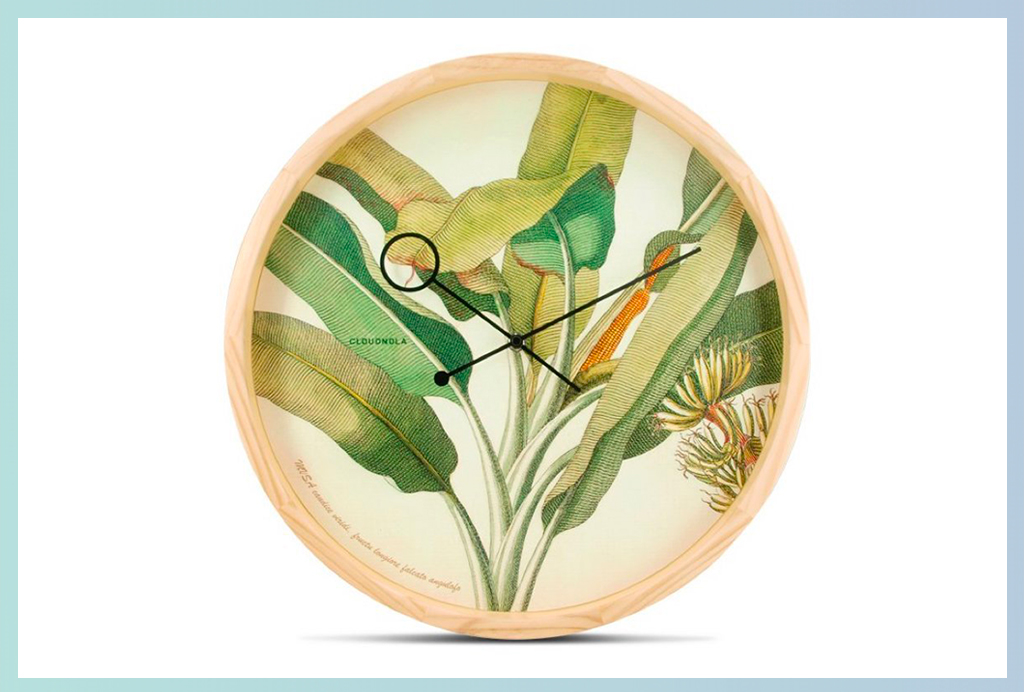 Shop now: Botanical Wall Clock by Cloudnola PALM
One of the most popular prints of the last few years, this verdant palm scheme is beautifully grounded in a blonde wood frame here in the Botanical Wall Clock in PALM. Zip up a moody emerald-hued sofa or bed for a fun style juxtaposition.
Hopefully, we've piqued your interests because there are even more clocks in our robust Decor section, which we update regularly with fresh picks, fashion-forward pieces and timeless treasures.
Looking for more buying guides? Don't miss these helpful posts:
---