Sleeper sofas are the absolute best bang for your buck. And now there are more incredible options to choose from than ever before. Apt2B is proud to offer the most robust and beautiful lineups of sleeper sofas, sleeper sectionals, and sofa beds on the market. If you haven't shopped for a sleeper sofa since the 1990s then you're in for a big surprise. Apt2B's sofa beds don't compromise on style, quality, or comfort. But with so many options to choose from it's good to have a little guidance. Want to know how to choose the best sleeper sofa? We'll walk you through the process. That way you can sleep easy knowing you made a decision that you'll never regret.
How Will You Use Your Sleeper Sofa?
The first step to consider for buying the best sleeper sofa is to determine how you will be using it. Will this be the main sofa in your home? Will it be stored down in the basement for spillover guests at Thanksgiving? Are you transforming your college-bound child's room into a much better, guest bedroom? Knowing this information will help you figure out the right size. If the sleeper sofa is going to be the main family sofa then you should consider getting a sleeper sectional. These sofas are big enough for the whole family but they have a sleeper mattress hidden inside. If you don't need a big sofa bed then you can choose a smaller option like one of our Queen Size sleeper sofas, Full Size sleepers, or our new Twin Size sleepers! These are perfect for a smaller space.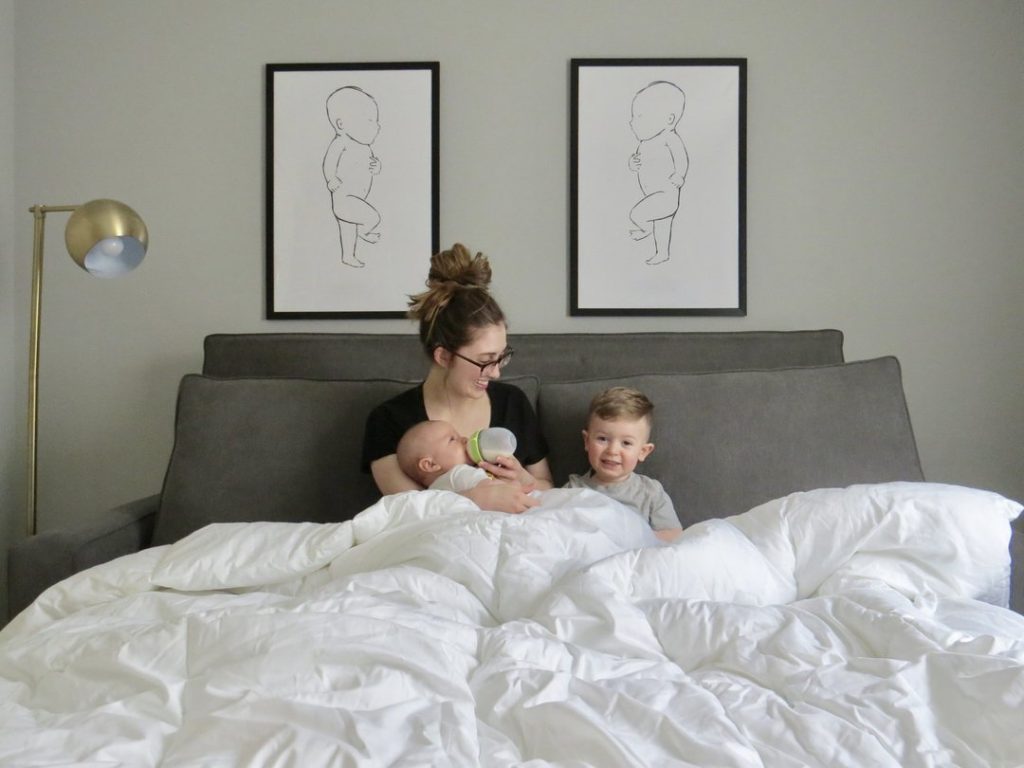 Choose The Right Sleeper Mattress
Apt2B offers two types of sleeper mattresses: a 5.5″ Deluxe Innerspring Mattress with Pillow Top (default) or a Memory Foam Mattress. How often you use your sofa bed is the best way to determine which mattress to choose. Some people love having a sleeper sofa because they want to be prepared for anything. These are the same people who actually have an Earthquake kit in their cars (but really, if you live in California you should have one). These same people might never even use their sleeper sofa a single time! On the other hand, maybe you rent out your home on AirBnB and you know that you'll have lots of people using the sofa bed. These are two very different situations.
Deluxe Innerspring Mattress: Soft and comfy. Perfect for people who only plan on using their sleeper mattress sparingly for the occasional guest.
Memory Foam Mattress: Firm and extra durable. Great for people who will use their sleeper sofas frequently or who intend to have long-term guests.
Sofa Bed vs. Urban Sofa Bed
Urban sofa beds (aka futons, aka click clacks, aka convertible sofa, etc etc) are a very unique product. They have a similar functionality as a sleeper sofa but in a much different style. Is it smarter to choose a sleeper sofa or an urban sofa bed? The main difference is that a standard sofa bed requires more room to function. The entire sleeper mattress has to fold out and extend into the room. This eats up a lot of real estate. If you don't have much depth in your room then an urban sofa bed is a fantastic alternative. I know what you're thinking – aren't futons for dorm rooms? Not these days. Apt2B's urban sofa beds are beautiful, durable, and extremely comfortable. If you like a minimalist look and don't have a ton of space then an urban sofa bed might be the right decision. If you have the space and want a larger sleeping surface then a standard sleeper sofa is the way to go.




Logan Drive Queen Size Sleeper | Sherman Urban Sofa Bed
Twin Size Sleeper vs. Daybed
A Twin Size Sleeper Sofa and a daybed, like the sofa bed vs. futon, fall into very similar categories of use. They are occasional pieces that you might never intend to actually sit on. But they are a great option for overnight guests, especially if you're tight on space. They are also ideal to use as a child's bed when their parents are using the main guest bedroom bed. If you don't have the room for a sleeper sofa then a daybed is a smart choice. It transforms into a bed without the need for any additional space. A Twin Size sleeper will require space in front of it to pull out the mattress. Both pieces can function as a sofa during the day time, but a Twin Size sleeper is almost always going to be more comfortable for actual sitting purposes. They also have very different looks. A daybed has a "French countryside estate" style versus a Twin Size sleeper, which has a more traditional home sofa look.


Nora Twin Size Sleeper Sofa | Andover Daybed
Reversible Chaise Sleeper vs. Sleeper Sectional
Apt2B features two of the largest classes of sleeper sofas on the Internet. We have the Reversible Chaise Sleeper and the Sleeper Sectional. Both of these styles provide the sectional comfort and size, but they do have some slight differences. A Reversible Chaise Sleeper can often feature a larger mattress than a Sleeper Sectional. That's because a Reversible Chaise Sleeper allows you to remove the ottoman portion entirely. This provides extra room for a bigger mattress. A Sleeper Sectional has a fixed chaise portion, which means the sleeper mattress and mechanism only fits within the sofa portion. On the flip side, a Reversible Chaise Sofa is not nearly as wide as a Sleeper Sectional. You end up sacrificing a little bit of sitting space for added sleeping space. That being said, Apt2B does feature several Sleeper Sectionals that have a Queen Size mattress like the Tuxedo, the Brentwood, and the Fillmore.


Avalon 2pc Sleeper Sectional | La Brea Reversible Chaise Sleeper Sofa
Maximum Seating Space + Maximum Sleeper Space?
Want to truly maximize your seating space AND your sleeping space? Apt2B offers two of the biggest sleeper sofas out there. The Melrose 3pc Sleeper Sectional is the best of both worlds. It features two sofa portions and a big chaise portion. You can sleep an entire family of 4 on this massive sofa bed! If you have the room for this giant convertible sofa then you won't believe the amount of value you'll get out of it.


Closing Thoughts
Apt2B is setting the new standards for sleeper sofas. Check out our entire collection of sleeper sofas and see for yourself! No matter what you're looking for, Apt2B has got you covered. Sweet dreams!
---