At first glance, an article about designing and staging an Airbnb might feel like something that doesn't apply to you (unless, of course, you have a rental property that could use some styling advice). BUT WAIT, because there are gems here for everyone. A little backstory: I recently completed the fun job of outfitting a house in Nashville, Tennessee, that would be used primarily as an Airbnb. While designing during a pandemic in a completely different city definitely proved to have its challenges, there were five key takeaways I picked up during the process that not only apply to staging but also could be useful for your own home.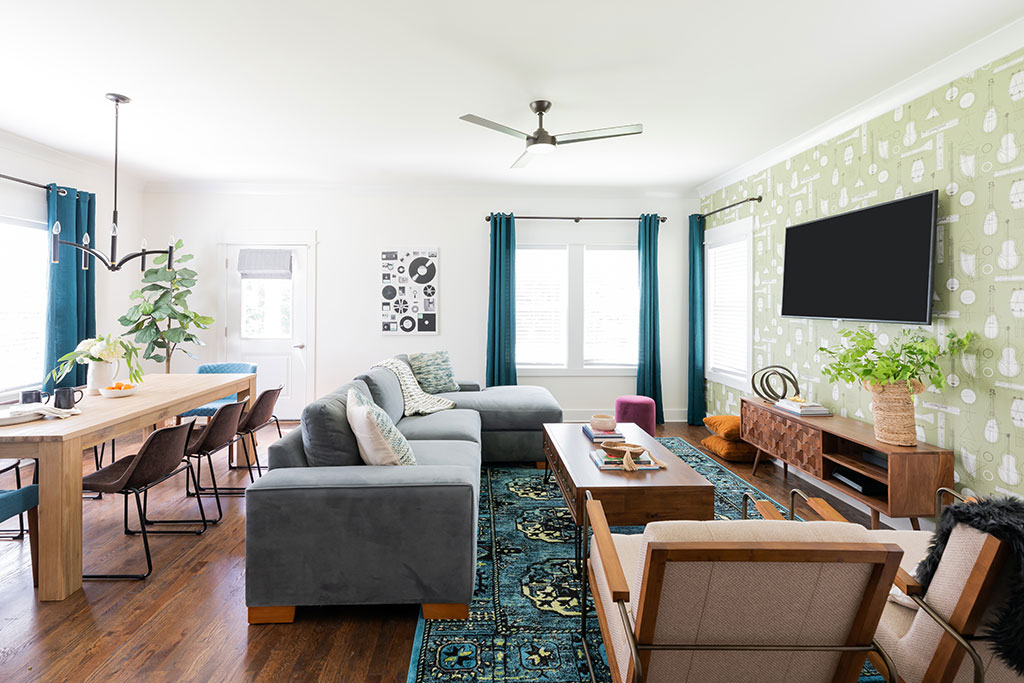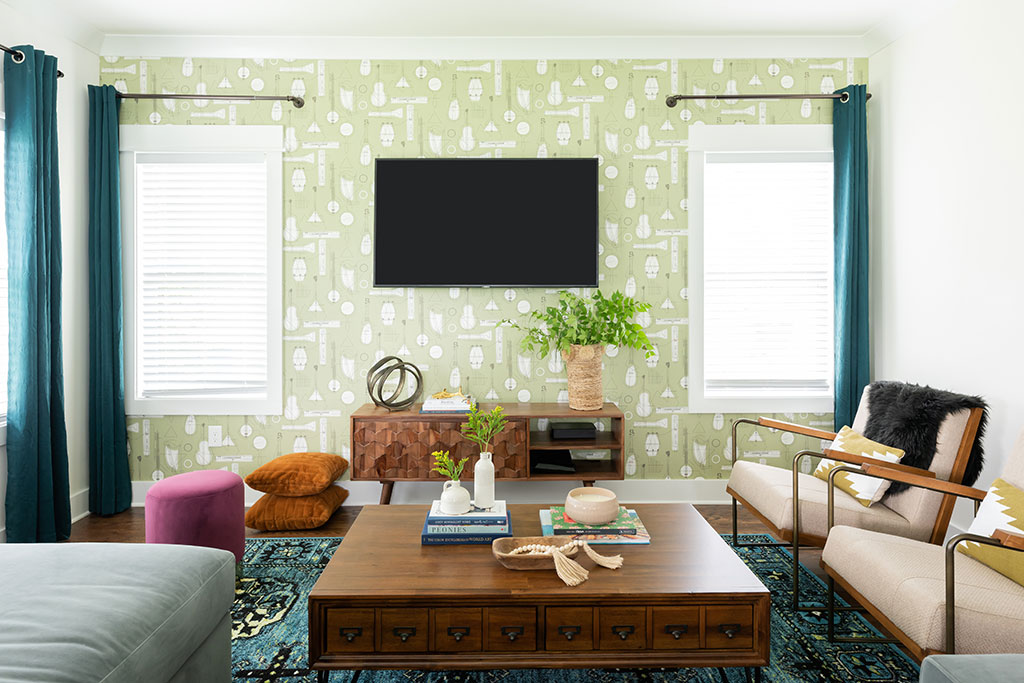 1. Create a "destination vibe."
I always say that good design should be rooted in its surroundings. Whenever I see a stereotypical "beachy" bathroom with the shells and the "Beach This Way" sign stuck in the suburbs, I cringe a little. Not because it couldn't work if it were in a seaside town but because the design doesn't feel real or grounded. With this Airbnb being in Nashville, aka Music City, I wanted to incorporate that heartbeat into the design as travelers want to be enveloped in the local sensibility. I used a subtle guitar wallpaper in the living room, added some fun record graphic art, and even hung a guitar for some interactive fun. It's important to give an Airbnb (well, any home really) a personalized home-away-from-home feel to compete with a more sterile hotel room.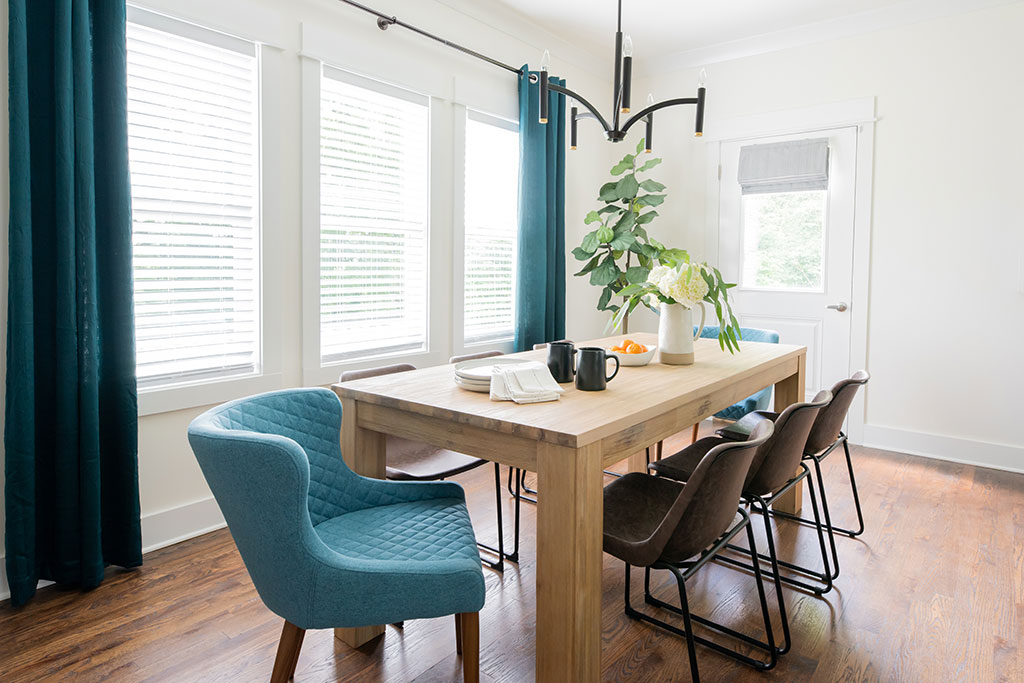 2. Add LOTS of seating. Everywhere.
When you're on vacation, you're ready to parrrrty! And that usually means surrounding yourselves with a bigger group—at least it used to! While it's important to have good sleeping options like doubling up beds per room if need be, if you then have a dining table that seats four, it doesn't really function for the group. I like to create dynamic seating options that can work for multiple occasions. For this dining table, there are six leather chairs and then two cozy host chairs that can double as extra seating for the living room for game nights and gatherings. Poufs and floor pillows are great things to accessorize with, too.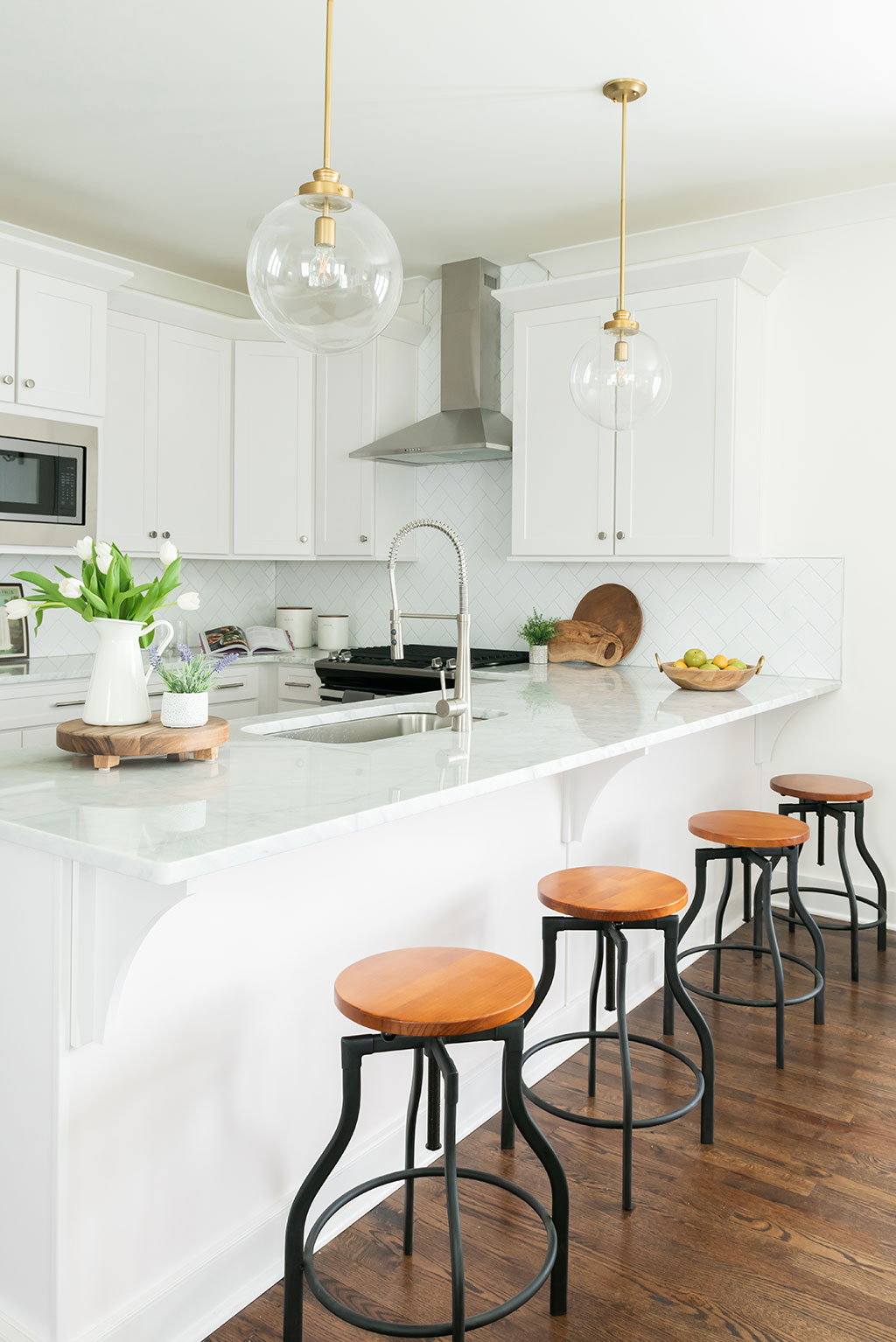 3. Keep the kitchen and bathrooms clean and crisp.
While personality is good for an Airbnb, I think it's important to keep the bathrooms and kitchen classic. There's nothing worse than feeling like you're in someone's dingy bathroom. I recommend all bright white from cabinets to towels. Then throw in a pop of flair like industrial counter stools and some wood accents to warm up the space.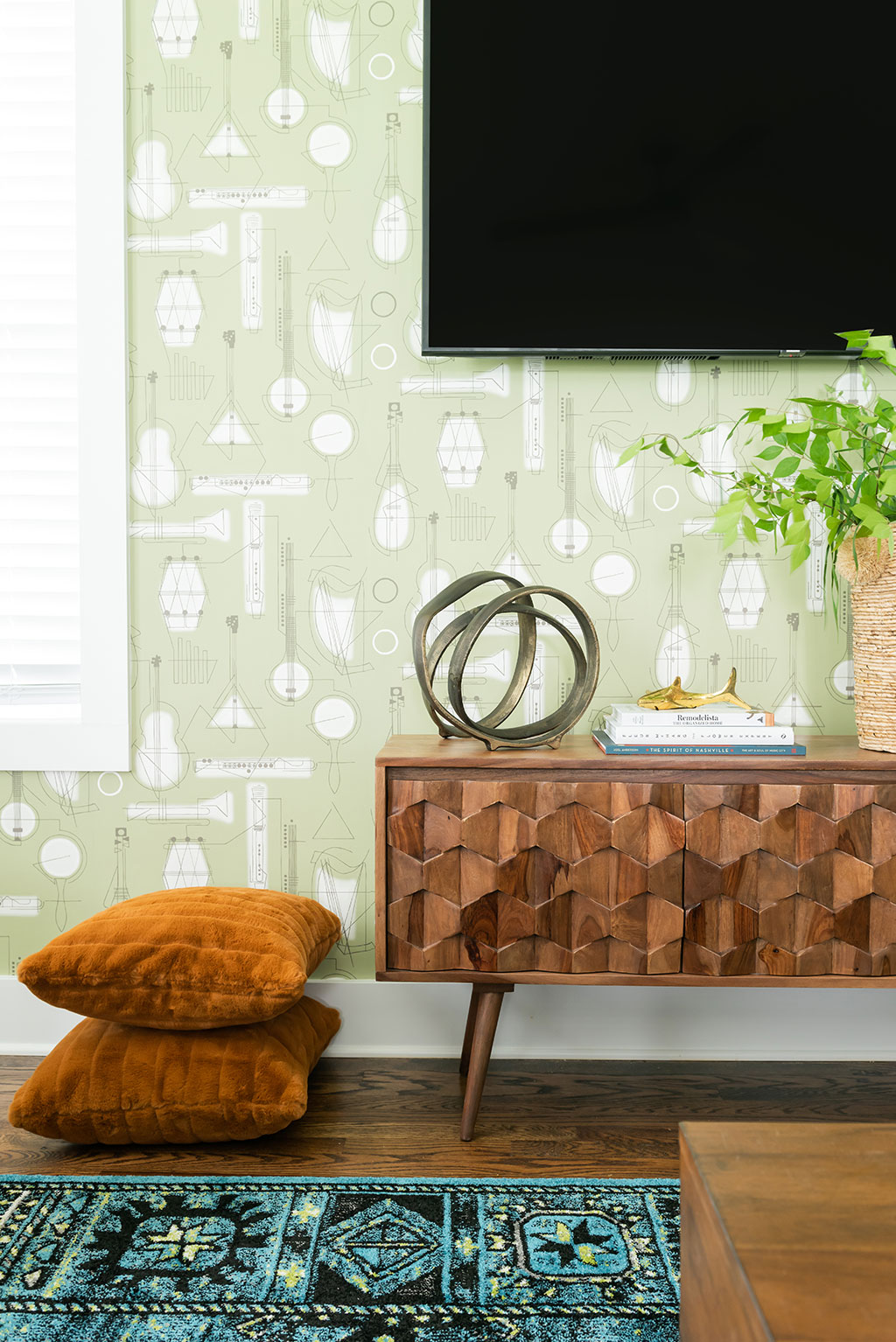 4. Layer up.
Comfortable, layered design in any room is all about the textures. For me, this one started with the rug. I carried the beautiful color and fun bohemian design throughout the space. I loved this wood carved credenza as it kept that boho vibe while introducing a new material. Anchoring the wall with a light green wallpaper picked up the punchy green in the rug and then I wanted a rusty accent to tone everything down, which the burnt orange floor pillows did really well. Pop in some free form accessories and books (always need some books) and the room starts to tell a beautiful story to its guests.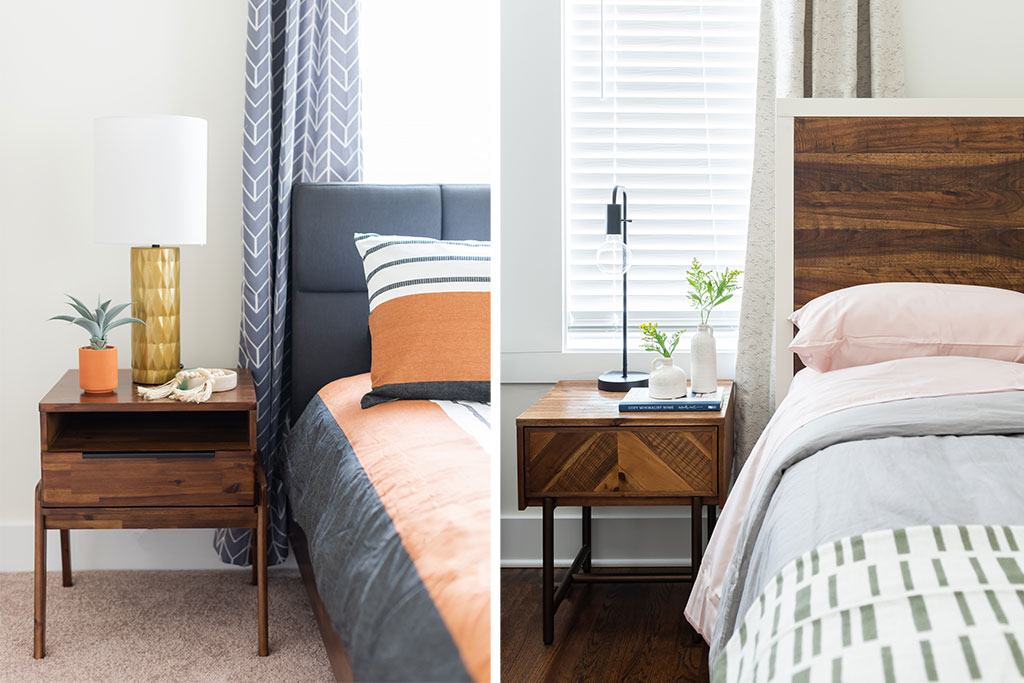 5. Color code your bedrooms.
And finally, one last tip that applies more to rentals then personal homes. For Airbnbs especially, I recommend giving each bedroom specific bedding. While I chose grey duvets throughout the house for ease, I popped each bedroom with a different color sheet and pillowcase to give them their own personality. It also helps to be able to talk to guests or cleaning crews by saying "the pink bedroom needs this" or "the orange bedroom has a lightbulb out." I kept the bedroom furniture in the different rooms fairly similar so everyone felt equal but those little touches in the throws and sheeting really make each one come to life.
And just like that, you'll be ready to start fielding reservations left and right (or loving your own home). You can shop for everything available you saw in this home over on this Apt2B collection page.
*photography and styling by Ruby and Peach, design by Kyle Schuneman
---