People love to imagine that they'll be bold enough to choose a glamorous, colorful sofa for their home. They construct mood boards, scour instagram for inspiration, and test the waters by casually bringing up the idea with friends and relatives. "Wouldn't it be wild if I had a pink sofa?" The sad reality is that most people waver and choose a neutral sofa. Beige and taupe are fantastic colors but they don't necessarily elicit a passionate response. And when it comes to your home would you rather settle for a neutral-colored sofa that you tolerate? Or would you rather have a colorful sofa that makes you happy every time you see it? I know which choice I'd make. Need some more inspiration and motivation before you jump into the world of color? Check out these 5 bold sofa colors that will really make your living room pop!
Mustard
Yes, it's an extremely popular condiment. But it's also an extremely fashionable complement to your living room decor. Mustard is a sofa color that works surprisingly well in a variety of different stylistic environments. Chic industrial loft? Beautiful. Mid Century Modern? On point. Contemporary? You get the picture. Mustard is a strong enough color to anchor a room without dominating the entire palette. It pairs well with blue, gray, and black.
The Lexington 2 Piece Sectional looks extremely dapper in Sterling K. Brown's Man Cave
The Walton Sofa enhances the overall look of this industrial chic space
Lexington 2 Piece Sectional | Walton Sofa
Blue
Blue is the hottest color for sofas this year. That's because it has the ability to be bold and serene at the same time. A blue sofa will really make a space pop, especially when it's paired with white walls. It's elegant yet playful. It's powerful yet inviting. It is also a prominent part of the minimalist color palette. Other colors in this palette are white, blush pink, and gold. Choose a blue sofa and you'll hardly have to do any other decorating to make your living room pop.
The Tuxedo 2 Piece Sectional in Blueberry is all this room needs to pop
The Pacific Sofa in Navy shows how well blue pairs with pink, white, and gold
Pacific Sofa | Tuxedo 2 Piece Sectional
Emerald
Much like its namesake, emerald is a real gem. This specific shade of green elicits a sense of sophistication and poise. It's downright grand. Emerald is a color that's not often featured on upholstered furniture. For that reason alone choosing emerald will make your living room pop. But emerald has a certain understated allure that makes it a strong choice for many styles. It looks especially good in white rooms. Pair emerald with gold, purple, marble white for a divine look.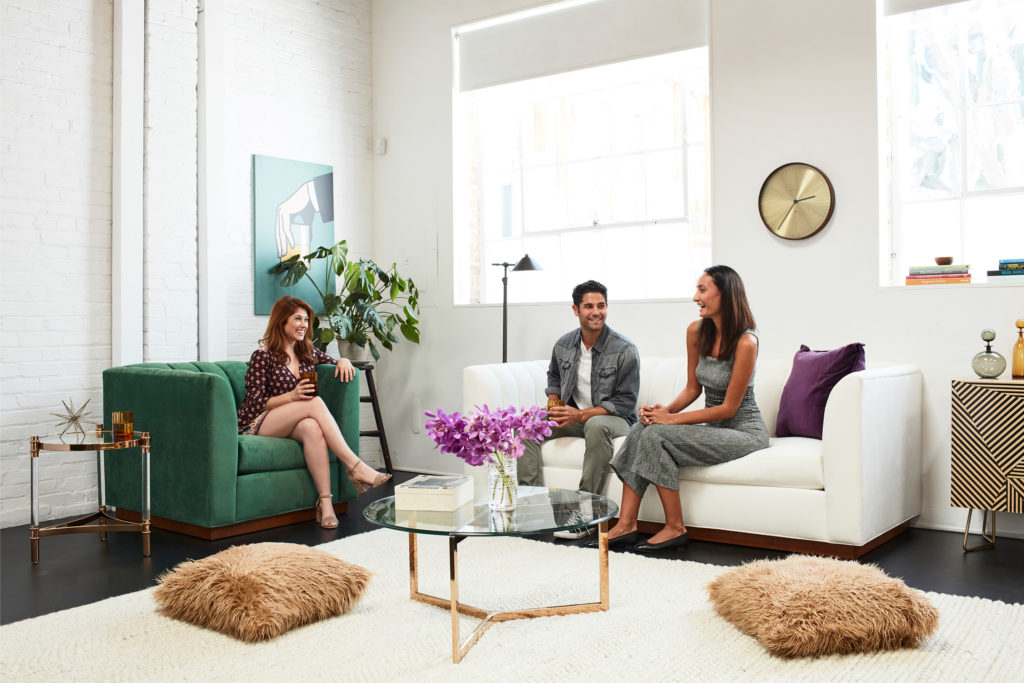 Pink
You can't have a list about colors that make a living room pop without including pink. Pink is the epitome of a pop of color. It's impossible to overlook a pink sofa in a living room. Pink is a color that demands attention and embodies confidence. Owning a pink sofa will make you feel like you can take on the world. Pink also happens to be a color that's been increasing in popularity over the last few years. It is often used as an accent color in rooms that are predominantly blue or white. However, it is now being used as the foundational color for sofas and other larger pieces. This is opening up the design world in exciting and dramatic ways. Don't you want to be on the forefront of a bold new world of design?
If the Monroe Sofa in Pink Lemonade looks this good in front of a gray metal wall then imagine how good it will look in your actual living room!
The Clinton Ave Sofa in Pink Lemonade makes its presence felt in this cute space
Clinton Ave Sofa | Monroe Sofa
Charcoal
Yes, I know I was ragging on neutral colors in the opening paragraph. And yes, I know that charcoal is technically a neutral color. But that doesn't mean that it can't make your space pop! Charcoal might not have the same head-turning appeal as pink or the subtle elegance of emerald, but it creates a strong foundation that opens up lots of design possibilities. Beige and taupe sofas don't necessarily pair well with many colors. Charcoal, on the other hand, looks incredible no matter what colors you throw at it. Put a pink throw on your charcoal sofa and it'll pop. Mustard toss pillows? Now we're really popping. Blue? Green? Red? Check, check, and check.
The Logan Sofa in Charcoal is the perfect foundation for allowing pops of color to really shine
The Avalon 2 Piece Sectional in Charcoal stands out as the focal point in this mostly neutral space
Logan Sofa | Avalon 2 Piece Sectional
Feeling bold enough to make your living room really pop? Check out all of Apt2B's incredible fabrics and see which sofa colors will help punch up your own living space!
---